AvaTrade Broker Review – Pros & Cons of The Offered FX Trading Services
The AvaTrade broker is one of the very few companies that have managed to generate a positive reputation in the market. Their trader-focused services have indeed helped instill a sense of confidence in their customers, which is one of the reasons the AvaTrade Forex broker continues to shine as one of the best Forex and CFD brokers in the market. AvaTrade was founded in 2006, and ever since, the company has been cementing its leadership in the market by continuously refining its product line-up to suit the demands of the market.
One prime advantage of opening an AvaTrade account is the ability to indulge in social trading. The company does appear to have one of the best social trading platforms in the market, particularly due to its partnership with various third-party social trading services. Another standout feature is the AvaProtect offering, which lets traders protect their trading capital of up to a million dollars against losses. There are several similar advantages on offer for customers, but we should also be aware of a few uncharacteristic drawbacks.
This comprehensive AvaTrade review is all about covering the broker's essential attributes in greater detail so you can make an informed choice. Our goal is to evaluate a broker's services from a trader's viewpoint; hence, this AvaTrade review is a must-read for all those contemplating a switch to AvaTrade for their FX trading needs.
Wide range of trading platforms
Protection against adverse market swings
Auto-trading and social trading tools
Excellent customer support
VISA
SKRILL
NETELLER
WEBMONEY
MASTERCARD
Assets:

Spread:

Platforms:

Security:

Max Leverage:
Reviewing AvaTrade Account Types & Account Sign-up Options
Before evaluating the different AvaTrade account types, we will first understand an AvaTrade online trading account's pros and cons. Is the AvaTrade broker suitable only for forex and CFD trading? Does it offer any other asset classes apart from Forex and commodities? Are there any unique advantages that set this broker apart from the rest? Here is a list of its pros and cons, and we will evaluate all the different aspects of the broker in detail later in this AvaTrade review.
Pros:
High ratings offered by existing clients, signaling a commitment to high customer satisfaction.
Several auto-trading and social trading tools to help traders copy other successful traders.
Properly regulated and reliable Forex broker.
Several innovative features, such as AvaProtect, to protect traders against adverse market swings.
A wide range of trading platforms and different asset classes.
A comprehensive collection of languages offered by the customer support team.
---
Cons:
No ECN or STP account options.
Account inactivity fees.
Some features are exclusive to the broker's proprietary app and not available to MetaTrader users.
In our AvaTrade review, we found more compelling advantages than significant drawbacks to opening an account. The company possesses several innovative features bound to be a great addition to a trader's arsenal. Considering its positive reputation, we found no reason to doubt the company's services or product portfolio.
To open an AvaTrade online trading account, you can either use your Facebook or Google account or follow the conventional method of using your email to create a new account from scratch. We recommend our readers open an account using your email address, as this would prevent you from inadvertently sharing your trading account details on your Facebook or Google account. For the first step, all you need to do is enter your full name as it appears in your identifying document, your email address and your phone number.
In the second step, you will have to share a bit more personal information, such as your date of birth and address, all of which must match the information provided in your valid official identifying document. The broker will not entertain any changes once the account has been opened, so you have to enter the correct information at this stage.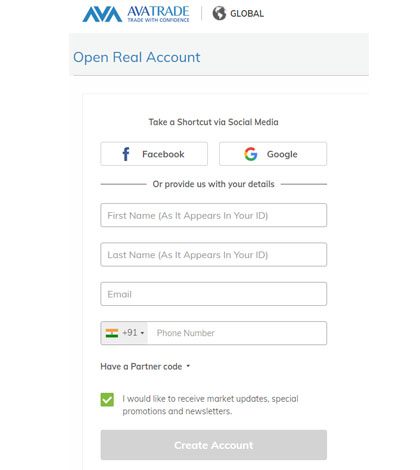 The second step in the registration process will also ask you to set an account password, choose a preferred trading platform and select the base account currency. If you are not entirely sure about your preferences for the trading platform or the base currency, select the default options for now.
You can add additional accounts in the future by visiting your account dashboard, which will let you choose a different trading platform and a different base currency if you prefer. Enter all the relevant information in step 2 and proceed to the third step of the registration process, where the broker asks you to complete a brief questionnaire regarding your profession, income, net worth and source of funds.
Once you complete the registration process, the broker will take you to its online trading platform, where you can verify your account, upload documents, open additional accounts or fund your account for trading. It will provide you with the login parameters for MT4 or MT5, along with trade server information if you prefer the MetaTrader over the broker's WebTrader. This information will also be available under the 'My Account' section of the WebTrader if you lose your MetaTrader login information or server address. If you come across any difficulties in signing up, you can always contact the customer support team, and they will guide you through the process and address any concerns you might have.
AvaTrade Account Types for Retail & Institutional FX Trading
The broker is a market-maker with an in-house dealing desk, which may present its own drawbacks. ECN and STP are not even offered as options, which is not ideal, but the broker overcomes its shortcomings by working with major liquidity pools worldwide to offer the best liquidity conditions for its traders. It does take the other side of the traders' position, which may lead to a conflict of interest, but due to the large number of transactions made by its huge clientele, AvaTrade matches almost all of its traders' positions through intermediary brokers and inter-bank FX liquidity pools.
The advantage of such a market-maker protocol is that the slippages remain low for smaller traders, while the spreads are more or less stable. Therefore, for this reason alone, there are only two AvaTrade account types for Forex and CFD markets, one for retail trading and the other for professional trading. The Standard AvaTrade account is designed for regular mainstream Forex traders, while the Professional account is intended for institutional trading, which requires a minimum investment of €500,000. The Standard account offers a minimum lot size of 0.01 lot, with increments of 0.01 lot per position, while the minimum order limit for a Professional account starts at one standard lot.
However, there are many basic guidelines for opening a Professional account. Traders should have indulged in a significant amount of trading activity for the past 12 months, and they must demonstrate relevant experience in the financial sector. Therefore, the Professional account is available only to a certain group of traders. However, there are no such restrictions for the Standard retail account option. Traders with any trading background and in any jurisdiction, apart from the US, Iran and other similar countries, can sign up for the Standard account.
There are additional AvaTrade account types that offer more innovative trading options. For instance, the AvaOptions account offers the ability to trade binary options, which helps traders hedge their positions or indulge in speculative trading. Although binary options trading is highly risky, it can be a great way for informed and experienced traders to hedge their risks in the market, make incredible profits through speculative trading, or manage a diverse trading portfolio.
The broker also provides an Islamic account option for Sharia-compliant trading. These accounts are available to all traders following the Islamic approach to trading, eliminating any instance of rollover fees or SWAPs. Amazingly, the Islamic account is offered to non-Islamic traders as well, as a part of the broker's all-inclusive policy to prevent discrimination against any particular category of traders. However, traders must apply for the Islamic account after opening an account, and the conversion will be approved within two working days.
The downside is that the broker may charge additional costs for trading to compensate for the loss incurred in keeping overnight positions open, which may take the form of higher spreads. Nevertheless, you can open a demo account to get a first-hand taste of the various trading accounts and their inherent trading conditions to evaluate the broker's services before depositing funds into a real trading account.
Evaluating the AvaTrade Platform Options Available for Trading
There are four different AvaTrade trading platforms available to traders. The first option is a proprietary WebTrader app, which contains several innovative functionalities that made us want to switch our entire trading operation over to the AvaTrade platform. The next set of platforms is the third-party MetaTrader terminals offered in both the MT4 and MT5 versions. Finally, there is a dedicated options trading platform, AvaOptions, which allows traders to indulge in FX spot options trading with over 40 different financial instruments.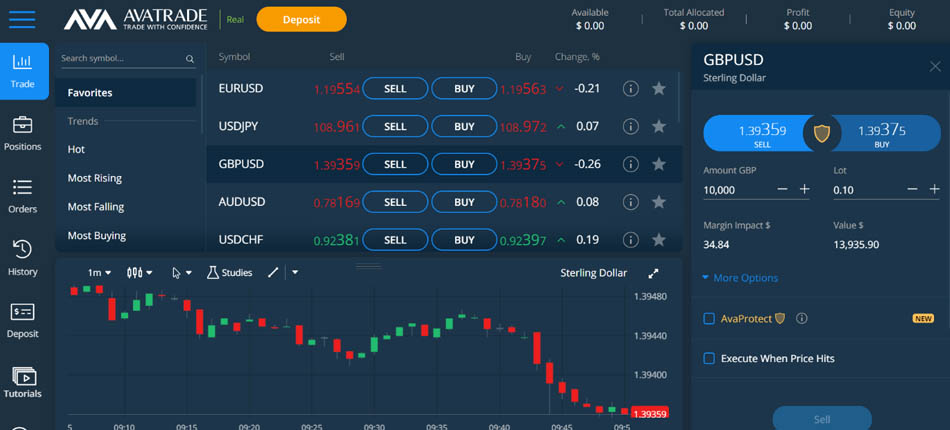 The WebTrader is the default AvaTrade platform for trading on both desktop and mobile devices. Besides being a trading platform, it acts as a personal account dashboard as well. The WebTrader is not a responsive interface, unlike some of the other WebTraders offered by rival brokers, but it does change its layout when accessed through different devices. Initially, the AvaTrade trading platform displays an interface split into two: the top half contains the instruments and their quotes, and the bottom half shows the chart and its allied charting tools. The trading terminal opens up as soon as we click on an instrument's buy/sell option, where we can choose the trade amount, set pending orders and activate take-profit or stop-loss levels.
The WebTrader is pretty useful for new traders, but one ground-breaking aspect of the web-based AvaTrade platform is the availability of the AvaProtect tool. AvaProtect is an exclusive insurance product that allows traders to pay an up-front insurance fee to protect their positions from any trading losses for a specific period of time (five different time frames are offered – one hour, three hours, six hours, one day and two days). It works by paying a cash incentive to traders if the position is on the losing side after the set time frame, regardless of whether the position is open or closed.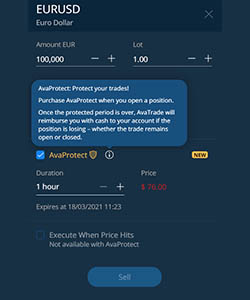 However, AvaProtect insurance is activated only for losing trades and may not be available for trades that are in the green. It can also be quite expensive and can eat into your profits if you are trading larger position sizes. Nevertheless, the feature can work wonders for both beginners and advanced traders, helping mitigate risks during adverse market conditions. Such insurance policies are quite rare among brokers, making it even more sensible to join the AvaTrade Forex broker for your trading needs.
If you are looking for a more conventional trading platform, then the MetaTrader terminals should serve your trading needs to absolute perfection. You can opt for the MT4 or MT5 terminals by choosing your preferred AvaTrade platforms when signing up or opening an additional account.
The MT4 and MT5 terminals do not have the AvaProtect feature, but they are more flexible for advanced traders or traders who use the open-source tools available with MetaTrader terminals. Both trading platforms are EA-compatible, while traders are also offered the option to trade with DupliTrade, a third-party copy-trading service added as an extension to the MT4 terminal.
Additionally, MT5 traders can subscribe to the MQL signals service. Therefore, AvaTrade trading platforms are the best for automated or social trading, which helps traders increase their chance of success by copying the trades of more experienced and successful traders.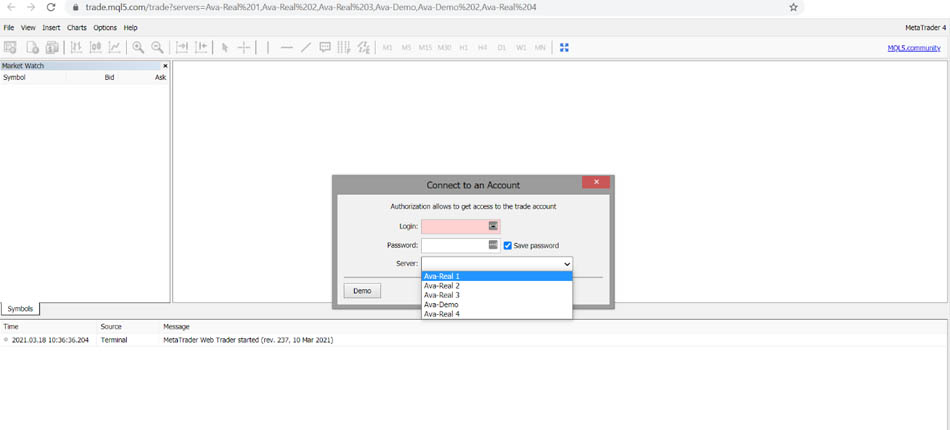 Traders are free to customise their MT4 and MT5 platforms without any restrictions, such as by adding indicators, installing custom trading tools and opting for open-source development. However, we ran into minor trouble, as we couldn't find access to the MT4 or MT5 WebTrader through the broker's website. Instead of hosting these platforms on their server, the broker links the official WebTrader website hosted on the MQL server. You can enter your login information and the AvaTrade server data into the WebTrader to access the MetaTrader WebTrader. It was a minor inconvenience, but nothing to be too worried about.
Trading on Mobile Devices with the AvaTrade App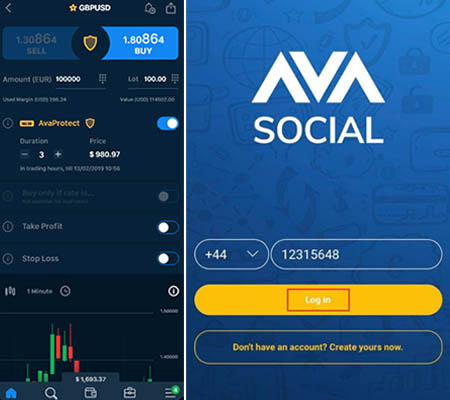 In this part of our AvaTrade broker review we will cover the diverse collection of mobile applications for both iOS and Android devices. For Android devices, it offers four proprietary apps and two third-party apps to its customers for accessing their Forex trading and social trading accounts. These include the AvaTradeGo app, AvaOptions app, AvaX app, Ava Social app, and MT4 and MT5 apps.
Apart from the MT4 and MT5 apps, all apps are developed in-house and are some of the best mobile interfaces for Forex trading we have encountered, and the AvaTradeGo app functions as an account management app as well.
While we usually prefer the MT4 and MT5 apps for FX mobile trading, the AvaTradeGo app spurred us to adopt a different app for our FX trading needs. It is indeed high praise for any mobile app, helped in part by the AvaProtect feature, which we found ourselves using a lot. The AvaTradeGo app continues the theme of the WebTrader, and the same applies to the WebTrader mobile version.
The Ava Social App is an innovative mobile social trading app that lets novice traders follow the trade orders and new positions of more experienced traders. It also serves as a platform to help traders interact with the trading community and generally profit from social trading benefits. However, we couldn't find an option to access DupliTrade for mobile devices or to add EAs or custom indicators to mobile MT4 and MT5 platforms.
For mobile trading on Apple devices, the same set of Android AvaTrade mobile apps is offered. The features, design, layout and other attributes are similar, and the performance levels are identical. As for the MetaTrader terminals, we noticed no significant differences between the two versions, and all versions of MT4 and MT5 worked as intended. Overall, we found the entire range of AvaTrade mobile app options incredibly useful and trader-focused and we recommend our readers try the apps to see the difference.
Trader Promotions & AvaTrade Bonus Terms
The company takes advantage of its global presence by offering an attractive AvaTrade bonus to its international traders. At the outset, it offers a deposit bonus of 20% to all new clients, which is applicable only for the first deposit. There are no bonuses for any subsequent deposits, and the maximum AvaTrade bonus issued per client is $10,000 or its equivalent in other currencies.
However, some AvaTrade bonus terms are associated with the company's promotional campaign. The broker reserves the right to alter its promotions without notice to its customers and can also change the bonus period or revoke the bonus at its discretion. Traders are required to deposit a minimum of $1,000 to receive the bonus, despite the company stipulating a lower minimum deposit of $100 for its standard trading account.
The bonus amount is withdrawable, but traders must execute a minimum trading volume of 10,000 units of the base currency for every unit of bonus offered by the broker. For example, if a trader receives a $100 bonus, they must trade a minimum of 1,000,000 in notional volume within six months, or the bonus will be cancelled. However, if the trader manages to surpass the trading volume within six months, the bonus amount can be withdrawn. There are a few additional AvaTrade bonus terms as well. The bonus is not available to clients from certain countries, such as the EU, Canada and Japan. A detailed list of countries is provided on the company's extended bonus T&C page.
Furthermore, Skrill or Neteller deposits are not eligible for the bonus, which further reduces traders' options. Nevertheless, we are glad that there is indeed a bonus on offer for a part of the international community.
Methods Available to Deposit Funds & AvaTrade Withdrawal Options
The deposit options may vary according to the geo-specific policies of the company and its regulatory compliance requirements. The broker has made it clear that it needs valid proof of address and a government-approved identity document to verify its traders' identity. Therefore, we suggest you verify your account by uploading the necessary documents and then making your first deposit. The broker also accepts third-party deposits, but you should submit additional documents and complete a detailed verification process to do so. It is a huge boon for traders, as it allows them to transfer funds from third-party accounts operated by their family, friends or colleagues.
AvaTrade Deposit Options
Deposits Availability
Min. Deposit
Deposit Fee

Deposits Availability:

Within 24 hours

Min. Deposit:

$200

Deposit Fee:

Sender may pay bank wire fee

Payment Methods:

VISA

SKRILL

NETELLER

WEBMONEY

MASTERCARD
Once your account is verified, you can deposit funds using an e-wallet such as Skrill, WebMoney, PerfectMoney or Neteller. You can even use a credit/debit card to perform an instant money transfer or use the wire transfer option to deposit funds. The broker promises to add the funds to your trading account within 24 hours, but wire transfers can take longer, and the broker specifies around seven days for the funds to reach your account. We faced a few delays while depositing funds using the e-wallet option and were slightly concerned initially when the transfer faced undue delays.
Usually, e-wallet transfers are instant, but there was a perplexing delay in our case, and we would chalk this up as a one-off instance. Nevertheless, clients' funds are kept safe by the broker in segregated accounts, which are kept away from the broker's operating funds. This separation ensures that traders can access their funds without any restrictions.
AvaTrade Withdrawal Options
Transaction Time
Min. Withdrawal
Withdraw Fee

Transaction Time:

Up to 2 days

Min. Withdrawal:

-

Withdrawal Fee:

Determined by broker's rate

Payment Methods:

VISA

SKRILL

NETELLER

WEBMONEY

MASTERCARD
The AvaTrade withdrawal options are similar to the deposit options, but you can withdraw funds only to the account used to deposit funds. The withdrawal process can be lengthy at times, as the company may take up to two business days to process a withdrawal. Therefore, although we were a bit disappointed at facing delays in both deposits and withdrawals, we are confident of receiving the funds in our account.
A Brief Look into the Forex Trading Conditions, Spreads and other Parameters
AvaTrade is a market-maker broker, and there are certain inherent risks of trading with a broker that may have a conflict of interest with the trader. Although the broker works with several liquidity providers and inter-bank liquidity pools to match its clients' orders, the company does take the opposite side of its traders' positions and either matches them with other traders or passes them on to the market. Owing to its regulatory compliance requirements, the broker does not indulge in any activities that put traders at risk, and we have seen it stick to a fair and transparent dealing process since its inception.
The advantage of such a broker protocol is that traders can expect a fairly stable trading environment, where slippages and partial order fulfilments are very low. The AvaTrade spreads are also fairly constant through varying market conditions, which gives traders the option to enjoy competitive spreads. The trading cost is quite low, as the spreads for major currency pairs are below 1 pip. The EUR/USD pair quoted a spread of around 0.8 to 0.9 pips, while a volatile currency pair such as GBP/JPY quoted a spread of just 2.5 pips. These kinds of spreads are usually quoted by STP brokers, which makes the quotes provided by AvaTrade extremely competitive.
Aside from the direct market access nature of STP brokers, we prefer sticking with the market-maker protocol of AvaTrade due to the low spreads alone. Since there is no ECN account on offer, traders don't have to worry about commissions for trading. However, the broker will charge an overnight funding fee, known as the SWAP, for all overnight positions. If you don't wish to pay the SWAP, an Islamic account option eliminates any SWAP, but the cost may be included in the spread. As for the other trading conditions, the maximum leverage for Forex instruments is 1:400, while the leverage is reduced to 1:200 for indices and 1:100 for commodities and FX options. Bonds, cryptocurrencies and ETFs offer a maximum leverage of 1:20, while stocks and equities offer a maximum leverage of 1:10.
Is AvaTrade Legit? A Few Notes on the Regulatory Compliance of the Broker
We understand how regulation affects the safety of traders' funds, and we take great care in analysing the regulatory compliance of the different brokers we review. So, is AvaTrade safe? Of course, in all respects. The company operates within the guidelines of six different regulators, making it one of the safest brokers in the entire market. Its EU operations are regulated by the Central Bank of Ireland under the European MiFID II guidelines (No.C53877), ensuring top-level regulatory protection for traders from the EU.
On the other hand, the broker's international operations are regulated by the Financial Services Commission of the British Virgin Islands, which may not be as confidence-inspiring as EU or US-based regulators. Nevertheless, the broker is regulated in Australia by the Australian Securities and Investments Commission, in South Africa by the Financial Sector Conduct Authority, in Japan by the Financial Services Agency and the Financial Futures Association, and in the Middle East by the Abu Dhabi Global Markets Financial Regulatory Services Authority.
It follows all regulatory requirements such as segregation of clients' funds and routine auditing of its financial transactions and dealing policies, along with compliance with EU guidelines on safety and insurance of clients' funds in case of broker insolvency. Overall, AvaTrade is as safe a broker as one could expect from the market.
Is the Customer Support Service Effective?
The broker offers customer service in 14 different languages and is available on call 24×7. Customers can call the broker directly at the number provided or initiate an online live chat through the website or the app. You can even contact a representative through the contact form on the website or send an email for official communications. All channels are highly active, and you can receive a qualified response within a day. The company's incredible trader-focused service is evident in the professional, friendly and knowledgeable customer support department.
FAQ
Is AvaTrade Safe for Forex and CFD Trading?
Yes, the company is regulated by six different regulators and is very safe for Forex and CFD trading.
What Is the Minimum Lot Size at AvaTrade?
The minimum lot size starts at 0.01 standard lot.
Is the AvaTrade Broker a Market Maker or an ECN/STP Broker?
The AvaTrade Forex broker is a market-maker and adopts a dealing desk protocol.
Does the Broker Charge a SWAP Fee for Overnight Positions?
Yes, the broker charges a SWAP fee, but not for its Islamic account holders.
Is AvaTrade Withdrawal Processed on Time?
All withdrawals are processed within two days, but there may be delays in clients actually receiving the withdrawals to their accounts.