FP Markets Review – The Ultimate Forex Trading Destination
FP Markets is a true DMA/ECN broker based in Australia, but it has a worldwide presence with an international brokerage located in St. Vincent and the Grenadines. It started offering Forex products and services in 2005 and is currently one of the top brokers for Forex and CFD products such as metals, commodities, indices and shares. We came across a few interesting statistics during our FP Markets review that demonstrated the company's positive customer satisfaction levels among existing clients. It had amassed excellent feedback, ratings, and trust scores on several independent review websites, which is an extremely difficult feat in the highly competitive and volatile Forex industry.
However, this fact shouldn't sway our approach to this FP Markets broker review. Our primary objective is to perform a thorough evaluation of the company and understand its inner workings to determine whether the broker is as good as its online reputation. We also compare the strengths and drawbacks of the company, which should offer our readers a complete picture. If you are in the market for a dependable broker and seriously considering FPMarkets, read our entire FP Markets review before deciding.
Low spreads from 0.0 pips
Track your trading in real-time
Over 10,000 stocks on global exchanges
Superior VPS solutions for EAs
BITCOIN
VISA
NETELLER
WEBMONEY
MASTERCARD
Assets:

Spread:

Platforms:

Security:

Max Leverage:
FP Markets Forex Accounts – What Are the Available Options?
FPMarkets has an excellent choice of FX trading accounts and ancillary services. Although a detailed analysis is provided in subsequent sections of this FP Markets review, here is a brief list of the pros and cons of the company. We can't emphasize enough the importance of being well prepared when choosing a Forex broker. We believe that it is our responsibility to offer our readers the best information about the company.
Pros:
A true ECN/DMA broker with no conflicts of interest.
Offers CFD assets from 5 different asset classes.
MT4 and MT5 apps are offered with ECN conditions.
Hosts a proprietary mobile FP Markets app for iOS and Android devices.
Cryptocurrency deposits are accepted.
---
Cons:
SVG FP Markets regulation is not confidence-inspiring.
No bonuses or promotions.
FP Markets Forex Account Types – Choosing the Best Option
The FP Markets broker has 2 main types of trading accounts, which is further divided into 4 categories according to the choice of FP Markets platforms. Unlike other brokers that categorize accounts according to the minimum deposit and offer better trading conditions for higher investments, FPMarkets has made it easier for its clients by providing a standardized trading environment for all account holders. The 2 main types of accounts are the Standard and the Raw accounts, which are offered with MT4 or MT5 platforms.
The Standard account is a commission-free trading account where the FP Markets spread starts at 1.0 pip, while the Raw account is a commission-based account where the FP Markets spread starts at 0 pips. The broker charges an ECN commission of $3 per side per lot traded, equating to $6 per round lot traded. The spreads are very competitive, but we can't say the same for the commissions since they are easily $2-$3 higher than the commissions charged by other mainstream ECN brokers.
The FP Markets minimum deposit requirement of $100 is the same for all account categories, and so is the FP Markets margin requirement with a maximum leverage of 1:500. All orders are executed through ECN pricing protocols, with minimum trade sizes starting at 0.01 standard lot. These are some of the best account options in the FX market since $100 gives you access to full ECN/STP trading conditions with no conflicts of interest between the broker and the trader. The only downside is that the choice of tradeable assets is limited. Nevertheless, an FP Markets broker account is well suited for retail and institutional trading. We recommend that our readers choose an account by carefully considering their trading requirements and cost preferences.
FP Markets Forex Account Signup – Outlining the Processes Involved
We registered a real account for this FP Markets review, which helped us evaluate the real-time trading conditions offered by the broker. The trading application form opens up as soon as you click the 'Open Live' link, asking for detailed personal information and your account preferences. Traders are also required to read the terms and conditions and declare that they understand the risks associated with Forex and CFD products. Registering for an FP Markets broker account involves 4 steps in total, and traders should be able to complete the entire registration process within 5 minutes.
The first step of the trading application form asks you to enter your email address, name, phone number, gender, and country of residence and to choose the type of account you prefer (Individual/Joint/Corporate). You will be automatically redirected to the Australian or International version of the brokerage, depending on your location. All you have to do is fill in your details and move to the next step of the signup process. You can also sign up using your Google or Facebook account and link your accounts, but we generally don't recommend using your social media handles for your trading accounts due to privacy concerns. Nevertheless, it is indeed available as an option for those who prefer to sign up using their Google or Facebook accounts.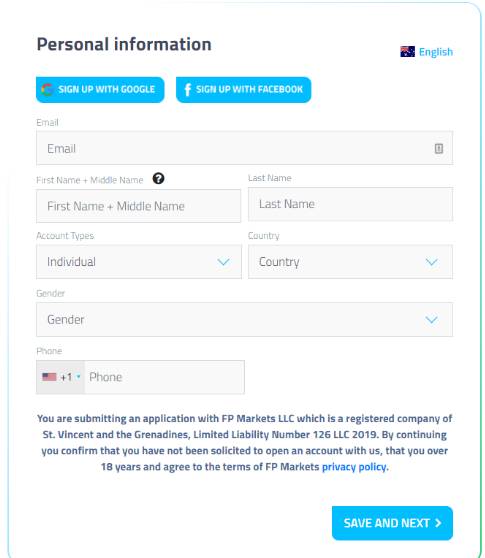 The broker may mandate mobile phone verification through a One Time Password (OTP) for traders from certain countries, but if you are not prompted for an OTP, you are free to move to the next stage of the application process. The second step asks you to enter your date of birth, physical address and financial information. You will have to share your annual income and the source of funds, mainly designed to keep your financial information on the log for future reference. The information you enter in the first and second stages of the application process will be verified later, so you must enter the correct information to avoid getting your account blocked.
Step 3 asks you to configure your trading account, where you can choose your preferred FP Markets platform, type of account, base currency and account/portal password. The broker allows you to open multiple trading accounts with different trading parameters, so you needn't stress about getting the account configuration correct the first time around. Finally, the fourth stage asks you about your trading experience, and to accept the broker's numerous policies, terms and conditions.
After accepting the terms and conditions, you will be taken straight to the client portal, where you should activate your account by uploading proof of identity and proof of address. You will have to verify your account to perform an FP Markets deposit and start trading. Therefore, it is a great initiative by the broker to ensure that all live trading accounts are verified, which minimizes any conflict when it comes to initiating an FP Markets withdrawal.
FP Markets Platform – Proprietary or Third-Party Apps?
The company has deliberately shied away from offering a proprietary FP Markets platform. Instead, the broker offers the popular MetaTrader apps for its clients, which is a great choice made by the company. The company offers both the MT4 and MT5 terminals to its users, both of which are available as an installable desktop platform and a WebTrader. The MT4 and MT5 FP Markets platforms help the company prevent inconsistencies and bugs associated with a proprietary app, which is one reason why the company has managed to build a solid reputation in the Forex market. These MetaTrader terminals offer an excellent range of customizability options, together with an in-house VPS service, which offers full EA access for automated trading.
The FP Markets platform options in their MT4 and MT5 guise use ECN bridges for full ECN trading. There isn't any market-making or dealing desk activity at the broker, ensuring that all prices and quotes are obtained directly from the liquidity providers. Additionally, traders can use advanced trading tools with the MetaTrader apps such as MAM/PAMM options, MT4 Traders Toolbox, Autochartist, social trading, and MyFXBook Autotrade features. Overall, the company has made an excellent decision to use the MetaTrader as its default FP Markets platform, which deserves significant praise for its utility, efficiency, and access to advanced trading tools.
Mobile FP Markets Apps for iOS and Android
The broker recently developed a proprietary FP Markets app for its mobile users called the FP Markets Trading App. It is an all-in-one trading platform that grants access to Forex and CFD markets through a feature-packed interface for iOS and Android devices. It allows users to bookmark their favorite instruments, add indicators to charts, manage open positions, and even manage their accounts through the built-in client portal. Traders don't need a laptop or desktop device to perform an FP Markets deposit, as the app allows instant funding through multiple payment options. Traders can also initiate an FP Markets withdrawal request through the app, ensuring that they can perform all trading and account-related tasks through the app itself.
The MetaTrader terminals are also available as mobile apps for iOS and Android devices, and these mobile apps offer an excellent platform for trading on the move. MT4 and MT5 apps are compatible with smartphones and tablet devices, but they miss out on several advanced features offered by their desktop versions. For example, the mobile MetaTrader apps don't support EA trading, and traders are restricted to having only 2 charts open simultaneously.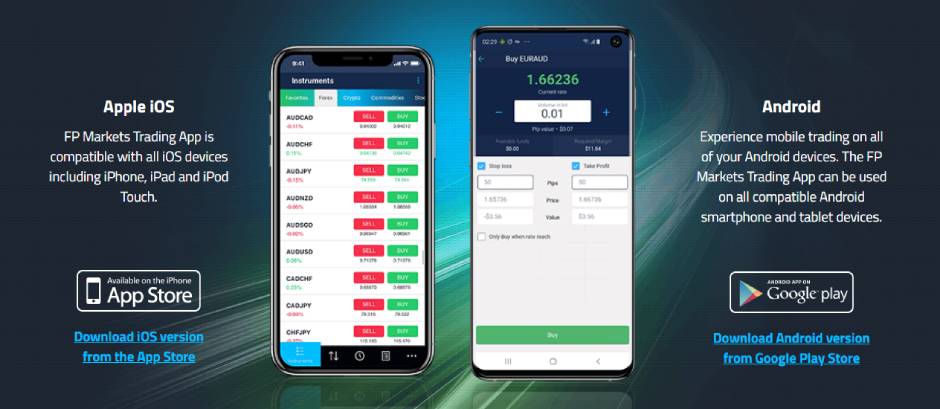 There are also some limitations to adding tools and indicators, aside from indulging in social trading. Despite the shortcomings of a mobile-based interface, the MetaTrader FP Market apps for iOS and Android are connected to the liquidity providers through ECN bridges. ECN trading conditions ensure that both desktop and mobile users enjoy the same market liquidity, pricing quotes, and other trading conditions.
The proprietary mobile app does perform remarkably well, and trade executions were comparable to its MetaTrader mobile app counterparts. In terms of design and overall usability, the mobile app does edge slightly over the MetaTrader app. However, to manage accounts through your mobile device and indulge in trading simultaneously, we recommend the FP Markets Trading App over the MetaTrader apps.
Does FPMarkets Offer Deposit Bonuses or Cash Rebates?
If there is one thing that we disapprove of with the FP Markets broker, it would be their lack of any bonuses or offers. In this FP Markets review, we were impressed by the company's regulatory compliance. Still, on the flip side, the same regulatory compliance has led to an absence of offers and promotional programs. The company is very clear on its stance regarding bonuses, and we can't fault them for complying with the regulatory guidelines. However, we believe that the company could have offered a trading-based loyalty program with some form of cashback or rebate program.
Nevertheless, the absence of a bonus shouldn't discourage you from opening an FP Markets Forex account since the company has several other trading-related benefits that are inherently useful for traders.
What Are the Funding and Withdrawal Options?
An FP Markets deposit can only be made after activating the trading account, which requires traders to submit proof of identity and address. However, unlike other FX brokers, where traders are expected to submit 2 separate documents for proof of identity and address, FPMarkets only requires a single identity document if it contains your current address. It does make sense and addresses one of the longest-standing questions that traders have been asking for ages. Nevertheless, verifying the account before performing an FP Markets deposit will also avoid any conflicts between the broker and the trader when it comes to withdrawing funds. The FP Markets minimum deposit is $100.
There are more than ten different funding methods, including online e-wallets and conventional bank wire transfer. Accepted e-wallets include PayPal, Skrill, Neteller, fasapay, PerfectMoney and several other local e-wallets relevant to certain markets. International clients can also use conventional funding options such as credit/debit card payments, international bank wire and local bank wire transfers. Regardless, traders will be delighted to learn that this broker accepts almost all popular cryptocurrency payments, including Bitcoin, Ethereum and Ripple.
FPMarkets does not charge any fees for deposits and may even reimburse any costs that are incurred during transfers. However, the company also offers an option of broker-to-broker transfer, which may incur fees that FPMarkets may not entirely reimburse.
FP Markets Deposit Options
Deposits Availability
Min. Deposit
Deposit Fee

Deposits Availability:

1 business day

Min. Deposit:

-

Deposit Fee:

No commission

Payment Methods:

BITCOIN

VISA

NETELLER

WEBMONEY

MASTERCARD
For an FP Markets withdrawal, traders can make a request through the client portal, and it will be processed within 24 hours. This can be done through either the website or via the mobile FP Markets app. The broker asks its clients to follow its anti-money-laundering policies, where the initial deposit must be withdrawn to the funding method used to deposit funds. All profits can be withdrawn to other accounts, provided they are held in the same name as the FP Markets broker account holder. If traders use multiple FP Markets deposit methods, then the broker will only allow withdrawals proportional to the deposit amount and in the order of the deposit method used.
FP Markets Withdrawal Options
Transaction Time
Min. Withdrawal
Withdraw Fee

Transaction Time:

1 business day

Min. Withdrawal:

-

Withdrawal Fee:

Depending on chosen method

Payment Methods:

BITCOIN

VISA

NETELLER

WEBMONEY

MASTERCARD
The FP Markets withdrawal process may appear complicated and unrelenting, but the company is legally bound to follow all regulatory and financial guidelines when handling clients' funds. Nevertheless, if your account is verified and you have followed all the guidelines before requesting a withdrawal, the funds should reach you within 5 business days.
FP Markets Margin Requirements, Trading Costs and Additional Services
The FP Markets margin requirements are pretty low since the broker offers fairly high leverage of up to 1:500 for Forex pairs. Therefore, it is possible to trade with small position sizing, with the minimum trade size starting at 0.01 of a standard lot. However, the broker does not offer micro accounts micro-lot trading, which may deter smaller retail traders, but ECN protocols warrant standard lot conditions. FPMarkets does not play any part in matching orders or executing deals, as all orders are passed on to the liquidity providers through ECN bridges. Therefore, there is no conflict of interest here, which offers a secure trading environment.
The broker does offer competitive spreads, starting at 1.0 pip for the Standard account and 0 pips for the ECN Raw account. The real-time spreads are not too far off the quoted levels, with the major pairs quoting a fairly decent 1.2 to 2.0 pips spread during regular trading hours. The spreads are even lower for ECN Raw accounts, where the spreads fluctuated between 0.2 pips to 0.6 pips for the major currency pairs. We did see the broker quoting 0 pips for a few currency pairs during high liquidity, and hence, we completely trust the broker's ECN bridges for direct market access trading.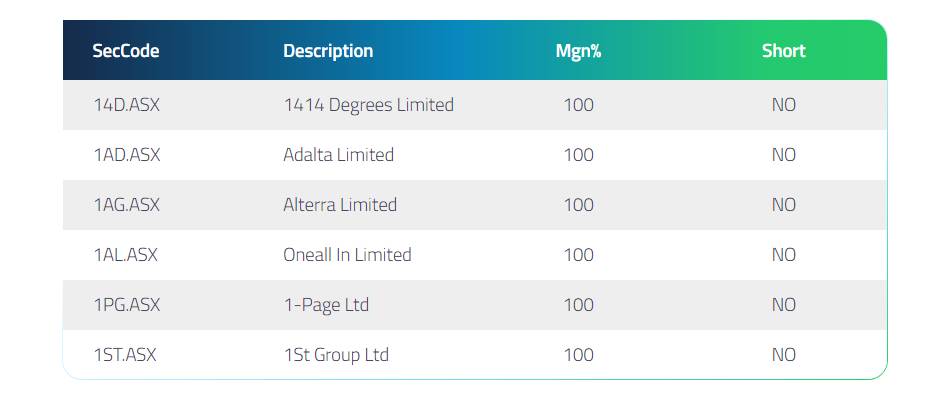 Although the spreads are competitive, the ECN commission is a bit expensive at $3 per side per lot traded. It totals up to $6 per round lot traded and can be quite expensive for high-frequency, high-volume traders. Other trading costs include SWAP rates, which are calculated daily for overnight positions. If you are a Muslim trader and require a Sharia-compliant account, the broker offers an Islamic account, where the overnight charges are incurred as administration fees.
As far as funding is concerned, traders are not charged anything for their deposits, but there may be FP Markets withdrawal fees, depending on the withdrawal method. However, the broker is very transparent about its fee structure, which helps traders precisely calculate the overall trading costs with an FP Markets Forex account.
Clients are also treated to a host of auxiliary trading tools and services, such as Autochartist, MT4 Trading Toolbox, FX Calculators, VPS servers, MAM/PAMM accounts, and social trading options. Traders also get access to webinars, educational materials, technical analysis and other trading resources, which help them improve their trading knowledge and enjoy better performance. Although most of these tools and services are free, premium features such as VPS servers may be chargeable. You can get in touch with your account manager to work out a payment plan for services that are best suited to your trading requirements.
FP Markets Regulation – What are the Regulatory Implications?
FP Markets regulation information threw up some mixed responses within our FP Markets review team, especially when reviewing its international operations. The company is primarily based in Australia, which brings it under the regulatory framework of the ASIC. The ASIC is a highly reputed FX broker regulator that strictly monitors all regulated entities according to the most stringent guidelines. The regulator is very keen on educating investors about the best financial practices, which goes a long way to preventing broker scams. The ASIC has also mandated minimum capital requirements, segregation of clients' funds from the company's operating funds, routine audits, and several other measures to ensure that brokers comply with global standards in financial regulations.
While the broker's Australian brokerage is undoubtedly one of the best options in the market, its international operations may not inspire much confidence among traders. The FP Markets regulation of its international brokerage is facilitated through St. Vincent and the Grenadines FSA, which is not as robust as the ASIC or other top-tier regulators in the EU. Of course, we should be aware that the SVGFSA is seeing a high influx of international brokers, many of which are trusted.
FPMarkets is also seen as one of the most reliable companies in the industry, and despite their SVGFSA regulation, they continue to work in the best interests of their clients. We also found that the broker offers similar trading conditions for both its international and Australian clients, thereby ensuring that safety is a priority at FPMarkets.
The Best Way to Contact an FP Markets Broker
We had to spend quite some time with the broker while compiling this FP Markets review, and we found that it had an excellent customer service department that answers all queries on time. There are multiple ways in which we can access the support team, such as email, web contact form, phone numbers, toll-free numbers, and live chat. The customer service department is available throughout the day, 5 days a week, but we were disappointed that the customer support team is not available through the weekend. Therefore, emails or any other messages sent during holidays and on Saturday and Sunday will not get a response until the next working day.
Nevertheless, they have an excellent reputation among existing clients, as evidenced by their high ratings on several online independent review websites.
FAQ
Are There Any FP Markets Withdrawal Fees?
Yes, there may be withdrawal fees for certain options, but the broker does not charge any fees for an FP Markets deposit.
Does the FP Markets Broker Offer Islamic Accounts?
Yes, SWAP-free Islamic accounts are provided for Sharia-compliant trading.
What Is the Minimum FP Markets Margin Requirement?
The broker offers maximum leverage of 1:500 for Forex instruments.
Does the Company Offer a Proprietary FP Markets Platform for Desktop Users?
No, the MT4 and the MT5 platforms are the choices offered to desktop traders.
What Are the Mobile FP Markets App Choices?
The company offers a proprietary FP Markets app for mobile devices and supports third-party mobile apps such as the MT4 and MT5 terminals.
Does the FP Markets Forex Broker Offer ECN Accounts?
Yes, FPMarkets is a true ECN broker.