IG Broker Review – A Detailed Analysis of the Company's CFD Products & Services
New Forex brokers arrive on the scene with many promises but soon fall by the wayside without creating any buzz. We have seen numerous brokers fail to live up to the hype and stay afloat in the highly competitive market despite showing huge potential. In such a cut-throat environment, we should tip our hat to the IG broker, which has been offering its services to traders since 1974.
Even more surprising is that the broker continues to lead the charge by being ranked consistently as a top CFD provider in the market, which speaks volumes about the way it conducts business. The company is also listed on the London Stock Exchange, making it one of the very few publicly traded CFD brokerages, further increasing its reputation among traders.
IG is mostly a CFD broker that offers a wide range of instruments on Forex, shares, indices, commodities, cryptocurrencies and other similar markets. Altogether, there are more than 17,000 financial instruments on offer, which is one of the highest numbers of tradeable assets offered by any CFD brokerage. Another key advantage is the weekend trading option, where the broker makes a market for specific currencies and assets to allow its traders to trade when the markets are closed.
In this IG broker review, we will cover all the different products offered by the company and even provide details on what you should look for when opening an IG Forex broker account. We will also investigate whether trading with the company presents any serious drawbacks by providing an unbiased IG review that gives you all the facts.
Fast, easy-to-use web platform
Apps optimised for all devicese
Specialist platforms and charting
Alerts and risk management tools
MASTERCARD
VISA
PAYPAL
MASTERCARD
Assets:

Spread:

Platforms:

Security:

Max Leverage:
A Glimpse into the IG Forex Trading Account Options & Registration Process
A quick look at the IG broker reviews online will provide a brief idea of the incredibly positive reputation the company has managed to accumulate over the past five decades. Despite the positive influence, we can't be sure about the broker's services unless we take a closer look at the product portfolio and the actual trading conditions on offer. Therefore, before registering for an IG Forex broker account, let us delve a bit deeper into the broker's advantages and disadvantages.
Pros:
Over four and a half decades of industry experience and exposure.
A thoroughly regulated broker with presence on five continents and in more than 15 global offices.
Listed on the London Stock Exchange.
Provides access to over 17,000 financial assets from different asset classes.
Diverse range of trading platforms.
Accepts traders from most countries, including the US.
Spreads are quite competitive.
DMA accounts are offered alongside the regular market-maker accounts.
---
Cons:
Fees are a bit on the higher side for shares and other CFDs.
No dedicated social trading platform.
No IG broker bonus.
CFD trading is not offered for US clients.
The company is indeed a reliable CFD broker, but some issues can hinder an otherwise excellent trading experience. For instance, the fees for shares, indices and other similar CFD trading are expensive. Furthermore, the broker may charge an inactivity fee, clearly outlined in its service terms. There is also an issue with the lack of integration of the trading platform with known social trading tools, which is a significant drawback, especially considering the relevance of social trading in the modern era. We would have expected the company to stay abreast of changes in social and automated trading services, and this is an issue the broker needs to address at the earliest instance.
Nevertheless, if the above-mentioned cons do not apply to your trading style or basic trading requirements, we highly recommend the broker's services. We urge you to read through the rest of our IG Forex broker review for a more in-depth evaluation of the broker and a step-by-step guide that explains the IG account sign-up process.
Types of Trading Accounts – Is an IG Demo Trading Account Offered to Traders?
This broker has been dealing with different generations of traders since the beginning. Hence, it understands that providing a simplified list of account options is far better than confusing traders with numerous IG Forex trading account options. As a result, the company offers two IG Forex broker accounts. The first type is the CFD account, which offers trading in contract sizes. The CFD account adopts a market-maker protocol, where the automated dealing desk matches orders internally and the broker takes the opposite side of its clients' positions.
Of course, there is an element of risk due to the conflict of interest in a market-maker protocol, but the company offsets its clients' positions by passing the orders to its liquidity partners and liquidity pools. Such an arrangement ensures that slippages are kept low, spreads remain stable, and orders are filled at the quoted price. Nevertheless, if you are worried about the CFD trading conditions, the broker also offers a DMA account, or Direct Market Access account. It can be opened only after opening a CFD account, and traders are required to submit a request to open a DMA account after completing their account verification procedure.
The DMA account offers direct market access trading using lot sizes, where traders' orders are passed directly to the liquidity pool. Of course, the immediate benefits of such an account are the reduced spreads, raw market quotes, and no conflict of interest. However, on the downside, IG Forex broker charges a commission for trading, which is charged above and beyond the spreads prevalent in the market. Of course, the overall costs may be comparable to a retail market maker account, but the benefits of DMA trading and tight spreads may be evident for larger positions, especially during times of low liquidity.
The DMA account requires traders to download the L2Dealer platform, which is different from the conventional Forex trading platforms that we see in the market. DMA account also offers the option to trade shares, but you can't actually own any underlying assets, as these instruments are still offered as CFDs. The quotes are offered by reflecting the market conditions accurately, but the company does not offer any options to share trades or claim ownership of these assets through its brokerage.
Moving on to the availability of an IG demo trading account, the broker indeed provides a demo account to all traders, free of cost. However, we are not entirely sure about the availability of a demo account for DMA accounts since we believe the IG demo trading account is offered only for the broker's CFD account. The company has specified an extra data usage fee for access to the L2Dealer platform, which means traders may have to shell out more for the services. Nevertheless, if you are indeed looking for an IG demo trading account, feel free to sign up for a CFD account as it is undoubtedly one of the best trading accounts in the entire market.
An In-Depth Analysis of the Steps in IG Broker Account Registration
To create a live account, you must first navigate to the broker's application form by clicking on the 'Create Live Account' link. It takes you to a registration page that floats over the broker's WebTrader interface. You will be asked to enter your name, email address, preferred username and password. The broker also encourages its customers to read through several documents, such as the Risk Disclosure Notice, Customer Agreement and Complaints Policy, before signing up. All of this constitutes the first step of a five-step sign-up process.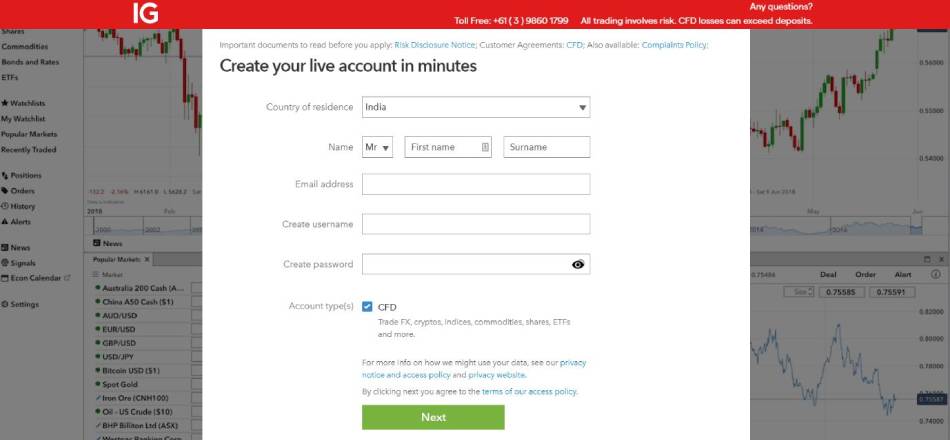 The second stage invites traders to provide their personal details, such as their date of birth and phone number. The third step asks you to enter your address, which we feel could have easily been included in the second step to save time. Nevertheless, the fourth step is a bit more elaborate, asking you to enter your financial background and employment details. The fifth step seeks to know a bit more about your experience trading in the financial markets, along with your knowledge about risky assets.
Finally, you will be asked to read and agree to all the company's risk disclaimer policies and will be informed of the risks associated with leveraged CFD trading. Once you fill out all the necessary information and agree to the broker's T&C, you will be presented with an information screen asking you to verify your identity by uploading the necessary documents. Account verification is mandatory, and traders won't be able to add new accounts or deposit funds without uploading all the necessary documents.
We were pretty impressed with the overall registration process, aside from the lengthy five stages, which could have been shortened. Nevertheless, no other broker seems as vigilant as IG about ensuring their clients complete the verification process as soon as they sign up. Verify your account by uploading clear copies of all documents through your IG account dashboard, and the broker will verify the documents within 24-48 hours.
After account verification, your personal account dashboard will be activated, where you can add new trading accounts, open an IG demo trading account, change your settings and subscribe to the DMA data feed. You can also deposit funds, and the IG broker withdrawal option appears within the account dashboard as well. Furthermore, traders can interact with the community of traders, learn trading through the academy, and receive top news and analysis of the market through the My IG dashboard.
How Has the IG Trading Platform Evolved over the Years?
IG has been closely witnessing the changes in the financial markets, including technological developments, for many years, especially through the late 1990s and early 2000s. It has continuously updated its trading platforms to meet market demands, and we should say its trading platform options are some of the bests the industry has to offer. Our first taste of the IG trading platform comes from the WebTrader, which launches as soon as we activate the account application form. However, we need to activate it from the account dashboard after account verification, after which a simplistic trading interface greets us.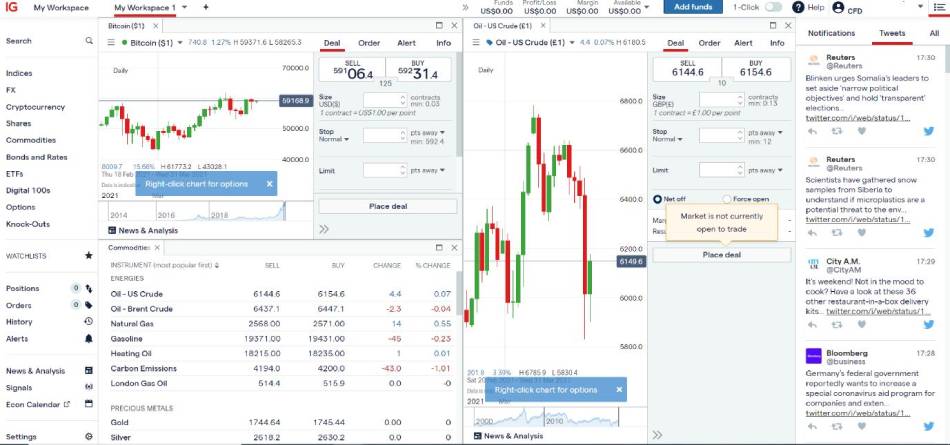 The WebTrader adopts a layout that dedicates the central layout to a module-wise trading interface. Traders can drag and drop any module they like and even open up a chart by double-clicking their preferred financial instrument from the list provided at the left of the platform. The platform's right side contains all the news, notifications and other market information, while the central portion comprises the actual workspace. The workspace can be filled with as many modules as traders prefer.
Traders can also create multiple workspaces, just like they could in a web browser. The chart, trading terminal, pending orders, pricing alerts and asset information are all provided within a module, making it easy to manage trades. Additionally, traders can access the different instruments in the left menu, which opens up additional charts and trading terminals.
We found the layout of the IG WebTrader very handy, but it can get very tricky if you handle positions in a lot of different instruments. We are concerned that newbie traders may fill up their workspace with tons of charts, which can be counterintuitive. Nevertheless, we found the web-based IG trading platform an excellent alternative to conventional third-party platforms such as MetaTrader4 and cTrader.
Several innovative features, such as the ProRealTime charting interface, the AutoChartist signals service, and the news and analysis section, provide additional freedom for traders to indulge in successful trading. That said, the broker also offers MT4 as an option, particularly for those who relish the opportunity to install custom indicators, employ EAs for automated trading or trade the markets with a familiar platform.
For DMA accounts, the broker offers the L2Dealer interface, which is free to download, but access to data comes with a data usage fee. The L2Dealer IG trading platform is not as graphically advanced as other apps in the FX market, but it gets the job done. Traders can access more than 10,000 different financial instruments from the share market through the L2Dealer platform, making it a must-have for share trading. The liquidity and costs represent the real market conditions, but there is no actual ownership of the shares, which is a bit disappointing. Regardless, we still prefer the WebTrader and the MT4 over L2Dealer.
How about the IG Trading App for Mobile?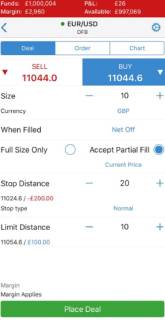 IG has developed several mobile applications for Android and iOS users. There is a progressive web app for mobile web users, which offers a standard trading layout that is not too fancy. It presents a well-thought-out interface that pares trading down to the basics without confusing the trader. We found the progressive web app well designed for all trading needs and never felt the need to switch to the company's other mobile IG trading apps.
Nevertheless, we also reviewed the other mobile trading platforms on offer to see how they performed compared to the progressive web app. To our surprise, we were highly impressed to find that the company has developed stand-alone apps for Android and iOS, which could be downloaded from the respective Google Play and Apple App Stores. These mobile platforms were even more powerful and could give other leading mobile apps stiff competition.
Their interfaces were also quite responsive, and their layouts were excellent for both smartphone and tablet screens. It explains why the company has been raking in one award after another for its mobile trading platforms, as these interfaces featured great design, performed really well, and never made us feel the need to switch to a desktop app for our trading needs.
If these excellent mobile platforms are not your cup of tea, you can always download the mobile versions of the MT4 for Android and iOS devices. These are the default mobile apps available for download on both smartphones and tablets, and all you need is your broker login parameters to access your accounts through theMT4 mobile apps. We did lean ever so slightly towards the proprietary mobile apps during our testing phase, which indicates that IG did its homework while designing and developing its mobile trading interfaces.
Can Traders Register for Any IG Broker Bonus Campaigns?
Unfortunately, we have found one chink in the broker's illustrious armour. Despite all the positive buzz surrounding the broker's services, we couldn't find any IG broker bonus for deposits, nor could we find information about loyalty programs, promotional campaigns or seasonal offers. Of course, there is a referral bonus, but that does not offer any substantial trading credits. The absence of a bonus program makes sense from a regulatory perspective, as several regulatory guidelines issued by leading regulators ban brokers from indulging in bonus programs.
Regardless, we consider it a minor inconvenience to traders; a bonus will induce several restrictions when it comes to withdrawing funds, which can negatively affect the broker's reputation. We feel that the broker's no-bonus policies have helped the company weather the market despite the tough competition offered by new-age FX brokers with their hefty bonus packages.
How Are Deposits Handled? Is the IG Broker Withdrawal Made on Time?
Funding your IG Forex trading account is only possible if you have verified your identity. Once your profile has been activated, you can deposit funds into your trading account through your account dashboard. Once again, the broker is a bit different from other mainstream brokers, accepting deposits only through credit/debit cards, bank wire transfers and PayPal. The company does not support any other payment options such as prepaid cards, e-wallets or mobile wallets, which can be a drawback for most traders. These restrictions may help the company stay safe from fads in the online payments industry, but we believe most modern payment systems are fast, reliable and, most importantly, secure.
IG Deposit Options
Deposits Availability
Min. Deposit
Deposit Fee

Deposits Availability:

1 business day

Min. Deposit:

-

Deposit Fee:

No commission

Payment Methods:

MASTERCARD

VISA

PAYPAL

MASTERCARD
Nevertheless, the broker has no minimum deposit requirement, which is amazing news for smaller traders, but it recommends at least $250 as starting capital. We also believe it is a safer option to deposit a higher amount, as it can be incredibly risky to combine a high degree of leverage with standard lot trading.
Prompt and consistent IG broker withdrawal is what sets the company apart from the rest. We have yet to hear any major concerns from existing customers regarding the withdrawal of their funds. We believe a consistent withdrawal policy and timely processing are essential for brokerages to protect and build their brand name in the Forex trading industry. To that extent, we are indeed satisfied with the broker's policies, but there are instances when wire transfers can face unprecedented delays. We did come across a few cases ourselves when the company's wire transfer was delayed beyond its control. Nevertheless, the broker extended its complete support to ensure that the funds reached our account without any major difficulties.
IG Withdrawal Options
Transaction Time
Min. Withdrawal
Withdraw Fee

Transaction Time:

1 business day

Min. Withdrawal:

-

Withdrawal Fee:

Depending on chosen method

Payment Methods:

MASTERCARD

VISA

PAYPAL

MASTERCARD
Does the Broker Offer Competitive Fees & Trading Conditions?
We wouldn't consider IG as the most economical broker in the market in terms of pricing since IG spreads and commissions are above existing market rates. For example, the spreads quoted for EUR/USD during the European session were around 1.2 pips, which is significantly higher than those of other market-maker brokers. Other brokers offered tighter spreads that were generally around 0.8 pips for the EUR/USD pair, which makes IG a very expensive broker.
Of course, the company does promise a minimum spread of 0.6 pips for the EUR/USD pair, but we have rarely seen the average spreads dip below 1.1 pips during active trading sessions. Shares trading is even more expensive at the brokerage, as traders have to pay a commission on top of standard spreads along with a data usage fee for the L2Dealer platform.
There is also an overnight funding fee, known as SWAP, which is incurred when positions are held open overnight. The SWAP rates are provided in the information section of each asset, but these charges are to be paid by the trader to the broker for all positions held overnight. It would help if you also kept trading in your account to prevent the broker from charging an inactivity fee. The inactivity fee can vary but keeping an account inactive for six months may prompt a response from the broker. Continued inactivity after warnings will prompt an inactivity fee. Therefore, if you are trading in the Forex market through IG, always consider trading costs when calculating your position sizes and trade management strategies.
Other trading conditions are akin to a standard account, with a maximum IG leverage of 1:200 applicable for all Forex instruments. The leverage is reduced to 1:10 for shares, while the leverage for indices and commodities varies from 1:10 to 1:100. Orders are filled at market prices with minimal slippage, which results from the company's market-maker protocol. The spreads are also quite stable, but you can't expect ultra-tight spreads to be offered by ECN accounts. Nonetheless, the costs are quite manageable, and unless you are a high-frequency trader, the trading costs at IG shouldn't make any sizeable impact on your trading results.
Is the IG Broker Safe and Regulated?
Nowadays, regulatory protection is mandated by every trader looking to make a profit from the FX market. In that regard, the broker's safety was never in question, as the company has regulatory licences issued by 10 different regulatory organisations. So, is IG broker safe? Of course, it's extremely safe, and we couldn't find any safer broker than IG even if we tried. In the UK, IG Markets Limited and IG Index Limited are regulated by the Financial Conduct Authority and listed on the London Stock Exchange.
The broker has also expanded its operations to the EU by setting up an office in Germany, bringing it under the regulatory supervision of BaFin and Deutsche Bundesbank. There are several ancillary entities operating out of Germany, all of which come under the EU MiFID II derivatives. Additionally, the company has a branch in Switzerland regulated by the Swiss Financial Market Supervisory Authority, making it one of the top regulated brokers in Europe.
The company also has a significant presence in other parts of the world. In the MENA region, the company is regulated in Dubai by the Dubai Financial Services Authority, while in South Africa, it is regulated by the Financial Sector Conduct Authority. In Asia, it has two offices in Singapore and Japan, which are regulated by the Monetary Authority of Singapore (MAS) and Japan's Financial Services Agency respectively. In the same way, the broker has also set up offices in Australia and New Zealand, regulated by the Australian Securities and Investments Commission and the New Zealand Financial Markets Authority.
Finally, the company's global operations are located in Bermuda, with regulatory licences issued by the Bermuda Monetary Authority. However, the most impressive fact is the company's US licences are issued by the NFA since it is registered with CFTC under the NADEX brand name. There are several restrictions when operating in the US because the regulatory organisations do not support CFD trading. IG cannot offer its services to traders from certain states, such as Arizona and Ohio. Nevertheless, traders from almost all other regions are free to join the broker through its international brokerage.
A Few Words about Customer Service
IG has a toll-free number, email address and web contact form, all of which provide instant responses to queries. The broker has a professional customer support team, but we are not entirely happy with their knowledge of certain products and services. We also missed a live chat option, and we can't support this glaring omission. Regardless of the company's justifications, we can't find any solid reason why the company hasn't set up a live chat function. Nevertheless, the FAQ and help forums offer a lot of information, which should provide detailed answers to your queries.
FAQ
Does the Broker Offer an ECN Account?
No, the broker does not offer an ECN account.
Are New Clients Eligible for a Bonus?
Neither new nor existing traders receive any kind of IG broker bonus for their deposits.
How Are My Funds Handled by the Broker?
All clients' funds are kept in segregated accounts, and EU traders are further protected by insurance policies that protect a part of the traders' funds.
Are the Spreads Competitive?
The spreads are quite average at IG.
Does IG Offer an Islamic Account?
No, there isn't an Islamic account option.