Markets.com Broker – Review of the CFD and Forex Trading Features
Traders always prefer to choose a broker that provides access to the entire global financial markets in one place. Markets.com fits the bill perfectly since it is renowned for its expertise in dealing with over-the-counter products such as forex and CFD instruments. The company created its world-class brokerage in 2008 and is regulated by top-tier regulators in the UK, Europe, and Australia. The broker has also installed international brokerages operating from the BVI and South Africa. Therefore, it is guaranteed that the company is audited to the best regulatory standards, making it a highly recommended broker for FX trading.
Several outstanding qualities create a favorable environment for a safe and reliable trading experience. In this Markets.com review, we offer our readers the most comprehensive information on the broker's safety protocols, the different products on offer, trading costs, platform options, and general trading conditions. Does the broker offer an ECN environment, and is there any conflict of interest? Does it accept traders from all regions, and how do regulatory restrictions affect traders? Learn more by reading our Markets com trading review.
Exceptionally low spreads
Competitive fees
Live XRay trading channel
VIP support
BANK-WIRE
SKRILL
NETELLER
PAYPAL
VISA
Assets:

Spread:

Platforms:

Security:

Max Leverage:
Markets.com Trading Review of Accounts and Signup Options
The broker capitalizes on its high-value domain name, which gives it a massive boost in the never-ending influx of newer forex brokerages. In such a scenario, it might make sense to stay safe by choosing an established broker, but we will take a detailed look at the company in this Markets com review after considering its fundamental pros and cons. This short analysis provides our readers with a better perspective of the broker's overall performance under real market conditions. We have subjected Markets.com through a rigorous evaluation process, which helped us better understand how the broker operates.
Pros:
An established FX and CFD broker with strong regulatory compliance.
Markets com minimum deposit is $100.
Outstanding choice of trading platforms
The broker also supports MT4 and MT5 platforms with access to a full suite of third-party tools.
---
Cons:
Slightly complicated and tedious account registration process.
No dedicated proprietary app for iOS users.
We never faced any issues while trading with a Markets com account, and we expect the general trading experience to be the same for all users. Read our following sections to know more about the different types of trading accounts and how to trade on Markets com with an account that suits your preferences.
Does Markets.com Offer a Varied Choice of Trading Accounts?
We had expected the broker to offer a diverse range of trading accounts, but we found that Markets.com is unlike any conventional mainstream broker. It provides only one trading account, with minimal variations depending on the underlying markets. Such a move can have a massive impact on traders' morale since there is no scenario where traders will feel shortchanged or inferior by choosing an inexpensive account. It also eases the process of opening an account without having to make complicated decisions related to minimum deposit requirements, leverage, trading conditions, costs, and more.
While there is only a single account option for traders, we did not see an option for an ECN/STP account. The broker promises direct market access trading conditions, but we discovered that they use a combination of market maker and STP protocols for order matching and executions. Therefore, orders may be matched internally, or in case of low liquidity, orders will be passed to the broker's large network of liquidity providers. Nevertheless, the broker grants access to a wide range of forex and CFD products, including currencies, commodities, indices, crypto, ETFs, and stocks.
The Markets.com minimum deposit is just $100, which is at par with most other mainstream market makers. You can also start trading with a demo account to test the broker's different platforms, which will give you a general idea of the broker's trading environment without risking real money. However, we could not find any social media accounts or PAM/MAMM options, neither could we find an option for a SWAP-free Islamic account for Muslim traders. Nevertheless, the broker does allow EA trading through its MetaTrader platforms, which will be covered in the platforms section of this Markets com trading review.
How to Trade on Markets.com – Opening an Account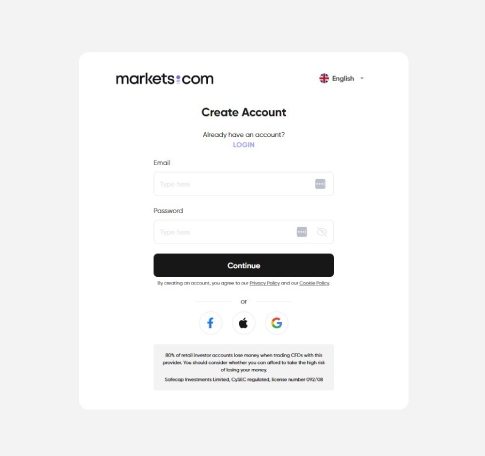 We opened a live trading account at the broker to develop a realistic Markets.com review. Our detailed evaluation guidelines are designed to analyze several trading parameters representing the real-live trading conditions offered to a typical client. Opening a trading account at Markets.com is slightly complicated and a bit tedious than one would expect. Of course, regulatory compliance does complicate matters for clients when it comes to registering an account, but these steps help enhance their safety and security. It is also imperative to note that the broker does not accept traders from all countries, as several geo-based restrictions are in place. If you are unable to sign up or are shown an error, get in touch with the broker's customer support channel to check whether you are eligible for a trading account.
You can sign up for an account by submitting your e-mail address and choosing an account password on the registration page. Once you have completed the first step, you will be taken to an elaborate signup form, where you have to enter your personal and financial information. The entire process took more time than we anticipated, but the questions were familiar. The broker had a preformatted set of questions, which were similar to those asked by most Forex brokers to comply with regulatory guidelines. We felt that the broker could have restructured the signup process to make it faster. However, the form itself was streamlined with advanced graphics, which minimized the chore to a certain extent.
Markets.com is a regulated company, which means that traders will be required to share their identity documents and address proof for account verification. The verification process may take some time, as the broker scrutinizes every document carefully before granting full access rights. You can make a Markets com deposit without verifying your identity details, but doing so before depositing funds will allow you to request a Markets com withdrawal anytime without any hassles.
Markets.com App Choices – What Are the Default Trading Platforms?
The qualities of a world-class brokerage were quite evident when we came across the Markets.com apps. The broker offers three platform options: the MT4, MT5, and the proprietary Markets.com trading platform. The MetaTrader terminals are provided in their default configurations, which means that traders have full flexibility over the usage of EAs, custom indicators, and MQL forums. The MT4 and MT5 terminals offer a wide array of financial instruments, ranging from forex, commodities, indices, and select share CFDs.
These platforms are known for their excellent compatibility with desktop and mobile devices, fast order execution speeds, intuitive charting options, and flexible trading conditions. The MetaTrader terminals are available for desktop users as a webtrader or as an installable interface for Windows and Mac users. We have tested them rigorously and found them among the leading third-party platforms for FX and CFD trading.
As far as the proprietary Markets com app is concerned, the company now offers an advanced multi-asset trading platform that promises access to a comprehensive set of trading tools with low spreads, fast execution speeds, and an overall improved trading environment. The Markets.com trading platform is a step up from its predecessor and is available as a browser-based interface and an installable desktop platform. It supports one-click trading with a fully customizable interface, which can be personalized according to individual trader preferences.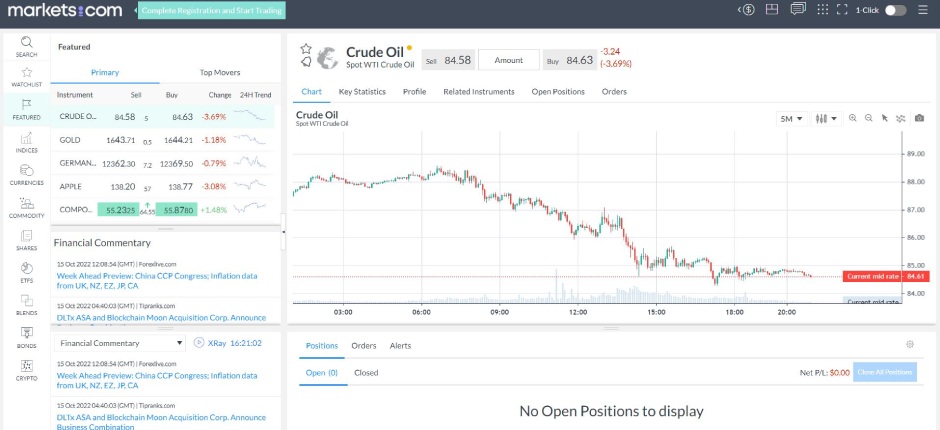 One standout feature we discovered during our Markets com review process is that the platform heavily uses the TradingView API through a standalone license. Therefore, traders are treated to the full suite of TradingView features and functionalities, which further aids traders in arriving at an informed trading decision.
The upgraded platform also offers detailed research and analytics directly from the broker, which includes market news & analysis, technical & fundamental tools, and sentiment analysis for comprehensive market coverage. Furthermore, the company's exclusive XRay Live video is streamed directly via the platform, which offers a deeper insight into the markets, courtesy of the company's in-house experts and guest speakers.
The broker also promises better execution speeds for its Markets.com trading platform than the MetaTrader terminals, along with ultra-low spreads. Still, in our real-market tests, the speed of transactions and trading costs were similar for both apps. Of course, the proprietary platform feels graphically superior to the MetaTrader platforms, and it was one of the rare cases where the proprietary app outshined the more established MetaTrader terminals. With detailed analysis, signals, advanced charting options, and a wide range of tradeable assets, the Markets com trading platform interface is certainly a must-try for both beginner and advanced traders.
Evaluating the Markets com Android App and iOS App for Mobile Trading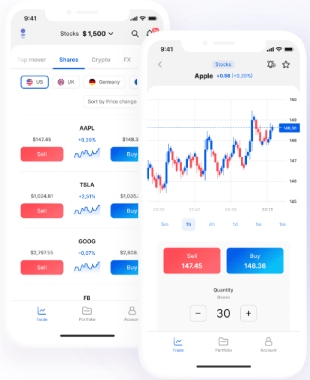 Both the proprietary app and the MetaTrader terminals offer mobile trading capabilities. MT4 and MT5 users can download the iOS and Android apps from their respective app stores. However, if you wish to trade the markets with the proprietary Markets.com trading app on your mobile, then you do have the option of a Markets com Android app and a Markets com iOS app that covers both Android and Apple users.
Both of these apps are available for download from the official app stores, and they also utilize the TradingView API to offer comprehensive market access. However, even though they provide excellent performance that is comparable to their desktop counterparts, we are slightly disappointed that the broker did not carry over the entire set of features, tools, and trading functionalities from the desktop interface to the mobile app.
Moving from the proprietary Markets com mobile app to the MetaTrader mobile app took our traders some convincing, as they thoroughly enjoyed trading on the Markets.com Android app and iOS app. They even found the mobile web browser trading experience to be far superior to other similar web traders. However, since the main motive of our Markets.com trading review is to evaluate all the aspects of the broker, we also tried the MT4 and MT5 mobile apps.
Sure enough, we were back on familiar grounds and could not notice any significant difference in trading conditions or costs as the broker claims. Nonetheless, in our opinion, we would highly recommend our readers to try trading with the proprietary mobile Markets com app to see if it can bring out any differences in their trading performance.
Markets.com Offers and Promotions – Any Luck with Deposit Bonuses?
We have witnessed a substantial decline in promotional activities across the forex industry as top regulators are discouraging firms operating under their framework from offering any bonuses to their customers. Therefore, being a regulated broker, we expected Markets.com to be fully against the concept of bonuses and offers. Initial impressions in our Markets com review point to the fact that there are no bonuses, but when we explored deep into the broker's international operations, we did find out that the broker has a bonus program for traders from select regions.
The South African version of the brokerage offers an attractive deposit bonus of up to 35% of the deposit amount, with the maximum bonus amount restricted to $3,500 for a minimum deposit of $10,000. Traders cannot withdraw the bonus amount directly, as they should satisfy the minimum trading volume requirements to be eligible for placing a Markets.com withdrawal request. However, this bonus offer is only offered to South African traders and may not be provided to international clients.
It is understandable that the company's European and UK brokerages have to follow the strict regulatory guidelines imposed by regulators in these regions, which means that traders residing in these countries will not have access to any bonuses or free money promotions. Nevertheless, we feel the broker has missed the chance to offer a bonus program to its international clientele, which could have ultimately earned the company many more traders.
Facilitating Payments – Markets.com Deposit and Withdrawal Methods
The broker offers six different payment methods to its clients, which is comparatively lower when we consider the funding options provided by several mainstream companies. Nevertheless, the company has covered the most popular payment options, which should be sufficient for most traders. The main Markets com deposit options include Visa/MasterCard, PayPal, bank wire transfer, Skrill, and Neteller. That said, we could not hide our disappointment in being unable to deposit funds via crypto wallets. Cryptocurrencies have become mainstream, and we expect a broker of Markets.com's stature to support crypto payments for its clients.
The Markets com minimum deposit is $100, but there are no maximum limits. All the funds are moved to segregated bank accounts protected from any financial anomalies. The online payment gateways are secured with SSL encryption, which virtually guarantees privacy and security in all transactions. The funds are further protected through several regulatory measures outlined in the next section of this Markets.com review. You can fund your account through the proprietary WebTrader app or via the Markets com Android app. Deposits are instant, which ensures that you can start trading within seconds of funding your account.
Markets.com Deposit Options
Deposits Availability
Min. Deposit
Deposit Fee

Deposits Availability:

Immediate

Min. Deposit:

$100

Deposit Fee:

No commission

Payment Methods:

BANK-WIRE

SKRILL

NETELLER

PAYPAL

VISA
You can deposit money as soon as you open an account, but you will have to verify your account for initiating a Markets com withdrawal. Verifying your identity can take some time and may pose some issues if your documents do not meet the broker's expectations. Therefore, we recommend depositing funds only after verifying your identity, as this will help you remove any uncertainties when you request a Markets.com withdrawal. The actual withdrawal experience is quite positive since the broker processes all withdrawals within 24 hours. You have to ensure that you withdraw your money to the same account used to deposit funds, which is done to ensure that the broker complies with anti-money laundering laws. Once the withdrawal is processed, you can expect the funds to reach you soon. The Markets com withdrawal fee depends on your withdrawal method and your location, and you should also account for interbank transfer fees if you are withdrawing funds through wire transfer.
Markets.com Withdrawal Options
Transaction Time
Min. Withdrawal
Withdraw Fee

Transaction Time:

From 24 hours to 7 business days

Min. Withdrawal:

$5 - $100

Withdrawal Fee:

Depending on chosen method

Payment Methods:

BANK-WIRE

SKRILL

NETELLER

PAYPAL

VISA
Markets com Trading Review – Fees, Leverage, Order Execution Policies, and More
The Markets com fees are indeed competitive, but do not expect zero-pip spread guarantees usually offered by ECN brokers. The major currency pairs can cost anywhere from 0.6 pip to 2 pips during regular trading hours, which is impressive. The broker does not charge any commissions for forex trading, but there are other costs, such as SWAP. SWAP is an overnight funding fee, which is added or removed from the existing position. SWAP costs are determined individually for each instrument and can vary depending on multiple factors. However, we could not find an Islamic account option that offers SWAP-free trading for Sharia-compliant trading. Therefore, Muslim traders may be conflicted about their prospects of trading FX and CFDs with the company.
The broker may charge commissions on top of spreads for other instruments such as stock CFDs. Indices, commodities, and other markets may also have additional costs, including weekly rollover costs for commodity contracts. All orders are executed at market prices and passed to the liquidity providers, which means that slippages and partial order fills are possible. There is no conflict of interest while trading with the broker, which means that traders can enjoy direct market access trading. There are additional costs such as an account inactivity fee, which charges traders $10 per month if they fail to place a trade for 90 consecutive days. There may also be Markets.com withdrawal fees for certain payment methods, which can differ according to the location of the trader and the funding method. Nevertheless, the broker offers a detailed breakdown of Markets.com fees and associated trading costs on their website.
Regarding margin requirements, the broker has adopted a policy in which traders will be provided with a maximum leverage of 1:300. Of course, this is done to protect traders from the volatility of the markets and comply with international regulations, but we feel that brokers should leave the decision to traders. Naturally, the margin requirement is higher for Markets.com, but it does reflect the company's general policies that ensure a secure trading environment. The leverage is further reduced for other instruments, such as stocks, indices, and cryptocurrencies.
Traders using the Markets com trading platform are treated to several trading resources such as market analysis and advanced charting options. The broker offers a wide array of fundamental, technical, and fundamental analyses for different markets. Traders can also access extensive educational materials through the Knowledge Centre, which further aids them in their quest to improve their understanding of the global financial market.
Markets.com Review of Regulatory Compliance and Security of Funds
The brokerage is owned by FinaltoBVI and FinaltoSA, which are part of Finalto Limited. Markets.com is regulated by several top regulators, such as the CySEC of Cyprus under license no. 092/08, the FCA of the UK, the ASIC of Australia, the FSCA of South Africa, and the FSC of the British Virgin Islands. The fact that this broker is regulated in several countries and has at least 1 top-tier financial authority, makes it thrustworthy and safe. The company has registered its brokerage under different brand names, which may create some confusion among clients. Nevertheless, always ensure that you are dealing with the real Markets.com domain and only follow links hosted by the official website.
The broker has gone to great lengths to enhance the safety of its client's funds. Its EU operations are carefully supervised by stringent EU guidelines, including auditing the broker's financials, ensuring minimum operating capital requirements, and insurance coverage for clients if the broker files for insolvency. Additionally, clients' funds are kept in segregated accounts at regulated banks, ensuring that the funds are not mixed up, and traders will receive their due in case the company faces some form of financial difficulties. Finally, all accounts are equipped with negative balance protection, preventing traders from losing more money than they deposit.
Client Interaction and Customer Access Points at Markets.com
Client satisfaction is at the core of the broker's promotional policies. Traders can contact the company through multiple means, including live chat, phone call, e-mail, and a web contact form. The customer service team is available 24/5, ensuring instantaneous responses to queries and complaints. The wait times are short, and the support team is proactive in addressing concerns on time. If you want to send any documents or screenshots to the broker, you can do so by e-mailing the broker, or you can also use their web contact form, which allows you to send attachments not exceeding 20MB. Overall, the broker offers an excellent customer service platform that contributes significantly to overall customer satisfaction.
Trading CFDs carries a considerable risk of capital loss. Please trade wisely.
FAQ
Did You Open a Live Account for This Markets.com Trading Review?
Yes, we open a live trading account at all brokers for compiling our reviews.
Are There Any Hidden Markets.com Fees?
No, there are no hidden Markets com fees, as the broker is transparent with its pricing structure.
How to Trade on Markets com with No Trading Experience?
The company offers a low-risk retail trading account with low leverage, along with several market analysis tools, signals, and an excellent knowledge center to help you learn the fundamentals of trading.
What Is the Minimum Markets.com Deposit Amount?
The Markets.com minimum deposit amount is $100.
Will I Receive My Markets.com Withdrawal On Time?
Yes, the broker is extremely dependable as far as processing withdrawals are concerned.
Is there a Markets com withdrawal fee?
Yes, the withdrawal fee can depend on your payment method and location.
Is There a Markets.com Android App?
Yes, a Markets.com Android app is available for download on the Google Play Store.