FXTM Review – How to Get the Most from a Leading Forex, CFD & Social Trading Platform
ForexTime brings together the perfect blend of conventional CFD trading and advanced social trading tools, ensuring that traders from all walks of life can find their perfect trading account at FXTM. Throughout our evaluation journey for this FXTM broker review, we have heard nothing but positive words about the company's approach to its customers. Almost all online customer FXTM reviews rate the broker as one of the best companies for retail trading. It claims to have amassed over three million accounts up to now and currently offers its FXTM trading platform to two million active traders from over 180 countries.
The high customer satisfaction levels haven't gone unnoticed, with the broker receiving several accolades from different online and offline organisations. We are not surprised that it continues to be recognised globally for its outstanding achievements. The company started its operations in 2013, but has been on an expansion spree since then. It now has offices in Asia, Africa, the Middle East, Europe, and Central and Latin America. Although its products and services are quite desirable for retail trading, some trading-related concerns can affect newbies and beginner traders. Nevertheless, does it offer a good trading platform for professional traders? Keep reading our extended FXTM broker review to find out more!
Wide range of trading instruments
Protection of funds
Superfast trade execution
Hi-tech forex trading tools
Assets:

Spread:

Platforms:

Security:

Max Leverage:
Does Trading with an FXTM Forex Account Offer Any Distinctive Benefits?
There are indeed several unique benefits to an FXTM Forex account. For instance, it has an amazing collection of ECN/NDD accounts that offer direct market access trading with inter-bank liquidity. The list of advantages is quite long, but there are some pitfalls as well. These are not necessarily drawbacks of trading with the company, but traders must be aware of the pitfalls involved in trading the highly volatile and risky Forex and CFD markets using the broker's full range of tools. Here we have generated a list of pros and cons to complement our FXTM broker review, which should serve as a yardstick while going through the different sections of this document.
Pros:
Long list of trading accounts with ECN/NDD trading conditions.
Excellent reputation with solid regulatory protection for traders.
Fast order execution speeds.
Low requotes and minimal slippage.
Independent audit of operations through PwC.
High success rate in processing clients' withdrawals.
Access to MT4, MT5 and FXTM Trader.
---
Cons:
Exceptionally high leverage that can be risky for new traders.
The best FXTM Forex trading account requires a very high minimum deposit.
Minimal bonus options.
ForexTime appears to have done its homework to understand the unique demands of retail traders. Its entire product line-up, its trading platform design and even its trading conditions reflect the modern trader's exact needs. ForexTime is one of the very few brokers we trust, and we would highly recommend opening an account at the company. If you are looking for more information about the types of FXTM Forex accounts or a comprehensive guide to the broker's registration process, please take a look at the following two sections of this FXTM review.
Interpreting the Features of the Different Types of FXTM Broker Accounts
There are seven different FXTM Forex accounts, which can make choosing an account a bit confusing for first-time traders. However, for regular or professional traders, these choices allow them to pick a trading account that satisfies their requirements. The company has broadly categorised the trading accounts into two types: the Standard account and the ECN account. The Standard account uses a market-maker protocol through the broker's in-house automated dealing desk, where orders are matched internally. Of course, in case of a liquidity crunch, the broker takes the opposite side of its traders' positions and then offloads them into the liquidity pool.
Therefore, there might be a slight conflict of interest with the Standard account, which can be eliminated by opting for the ECN account. The ECN account category adopts a No-Dealing-Desk (NDD) protocol, where all orders are transferred to the liquidity pool, ensuring direct market access trading.
The Standard account category includes three different choices of accounts. The first choice is a Cent account, where 100 cent lots are equal to 1 standard lot. The Cent account helps in trading with smaller lot sizes, which start from as low as 0.01 cent lot. The minimum FXTM deposit for this account is $10, while the maximum leverage is 1:1,000. Traders must be careful when trading with such a high degree of leverage, as it can lead to a margin call with just a few pips of movement against their position. The Cent account's minimum spread is 1.5 pips, which is reasonable considering the intended audience for this category.
However, you don't get access to the entire range of instruments, as Cent account holders are limited to 25 currency pairs and two metals. The Cent account is available only with the MT4 FXTM trading platform.
If you want to trade in standard lots with a slightly lower FXTM spread, the Standard account lets you trade a wider range of instruments, starting with a minimum order size of 0.01 standard lot. The minimum deposit FXTM is $100, but you do get a higher FXTM leverage of 1:2,000. The increased leverage can be even riskier for smaller traders. The spread for the Standard account starts at 1.3 pips, which in our opinion cannot be considered entirely competitive. Nevertheless, the Standard account is available with both the MT4 and the MT5 trading terminals.
There is an additional category under the Standard account, known as the Stock CFDs account. This account enables traders to trade in stock CFDs with a minimum FXTM deposit of $100. The maximum leverage for US stocks is 1:10, while that for EU stocks is 1:3. There are 120 US shares and 40 EU shares, all accessible only through the MT4 platform.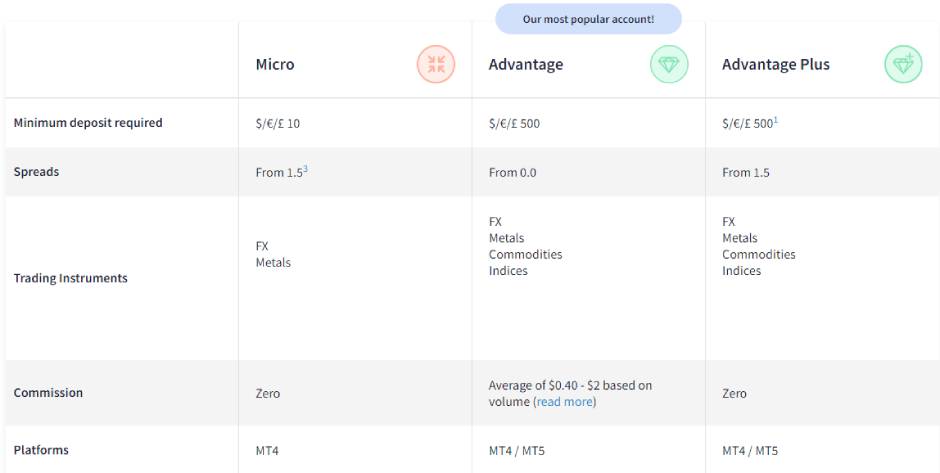 The second account category, ECN accounts, offers four different choices. The Stocks ECN account is the most accessible, with an FXTM deposit minimum of $100. Unlike the Stock CFD account, the Stock ECN account facilitates direct market access trading, with the leverage reduced to 1:1. The broker provides access only to US stocks, and there is a maximum volume limit of 2,000 lots per trade. However, there is no limit on the number of orders. The next category is the ECN Zero account with a minimum deposit FXTM of $200, for which you get spreads starting at 1.5 pips.
The commission is incorporated into the spread, so we are not too concerned about the ECN Zero account's high spreads. However, if you want even more competitive spreads, then the normal ECN account quotes spread from 0.1 pips, but you will have to pay a commission of $2 per lot, single side, or $4 per round lot. The minimum FXTM deposit for the ECN account is $500, which is a bit expensive for smaller traders. The maximum leverage for both the ECN and the ECN Zero account is 1:2,000, and both accounts are offered with the MT4 and MT5 terminals.
From a trading perspective, the best FXTM Forex account is the FXTM Pro account, which does not charge any commission for trading. The spreads start at 0 pips, and the leverage is more manageable at 1:200. It is available with both the MT4 and MT5 platforms and offers access to all the broker's different instruments. However, the major drawback is that the FXTM deposit minimum for this account is $25,000, which is insanely expensive.
Although we do prefer the remarkable trading conditions offered by the FXTM Pro account, we are not sure how everyday retail traders would react to the high minimum deposit requirement. Other mainstream Forex brokers offer similar trading conditions at a fraction of the cost. Therefore, we would pick the regular ECN account as the best account option at ForexTime, especially since the trading conditions are quite relatable to the industry standards.
Finally, traders and investors can participate in a copy trade program known as FXTM Invest. You can become either an Investor or a Strategy Manager, but there will be additional costs. Investors will need to pay a fixed fee for copying other traders, while Strategy Managers can earn money by allowing Investors to copy their trades. There are no FXTM trading signals or similar services, but EA support is offered to all account holders except those with Stock CFDs accounts.
A Glimpse into the Account Registration Process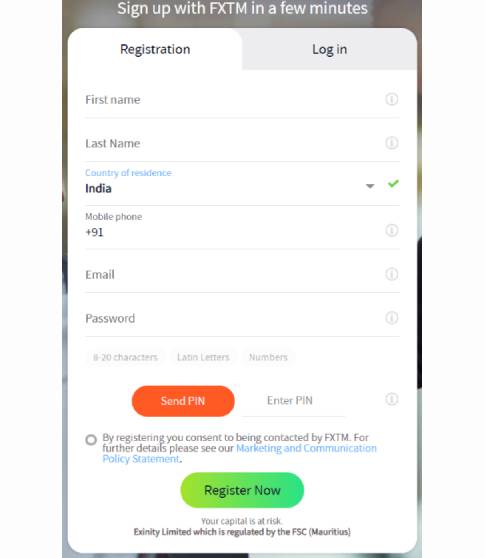 Traders can open an account through their mobile or by using a desktop browser. The broker is pretty serious about preventing spam sign-ups, which means you must keep your mobile phone handy while filling in the registration form. Once you visit the account registration page through the 'Open Account' link, you will have to enter your full name, country of residence, mobile number, email and password. A PIN will be sent to your chosen mobile number, which you must enter in the form to proceed to the next stage of the sign-up process. Once your mobile number has been verified, the broker asks you to submit your personal information, such as gender, age, country where you pay your taxes and verifiable contact address.
The next step is to verify your identity and open a live trading account. To verify your account, you will need to submit scanned copies of your identity documents along with proof of address. Additionally, the broker requires its clients to verify their payment method, which can be done by uploading a scanned copy of your payment information. Opening a live account at ForexTime shouldn't take more than a few minutes, and the entire client approval process is usually completed within fifteen minutes. Therefore, despite the hassle of verification, we felt that account approval speed is indeed a plus for the company. After completing your account verification, you can deposit funds and start trading, although account verification is not an absolute necessity for funding your account or trading the markets.
Our Overall Understanding of the FXTM Trading Platform for Desktop
We did expect a proprietary FXTM trading platform for desktop devices, but the company offers only the MT4 and MT5 terminals. Of course, the MetaTrader platforms continue to rule the market in terms of outright performance, customisability and EA support. However, ForexTime could have developed a dedicated browser-based interface to offer a unique platform to its clients. Nevertheless, the MetaTrader FXTM trading platforms can be downloaded as an installation file for both Windows and MacOS, or traders can access the WebTrader version of the MT4 and MT5 terminals through the WebTrader hosted on the company's server.
EA support is provided for both MetaTrader terminals, but the broker does not mention any FXTM trading signals' availability. EAs and custom tools are available for all MT4 and MT5 users as part of the open MQL community, ensuring that traders can modify their trading strategies or the platform according to their specific needs.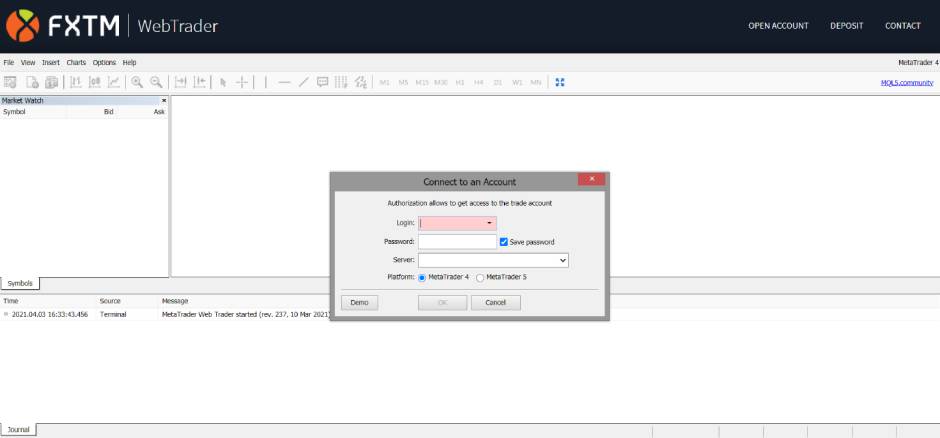 While the platform's performance and the order execution were on a par with other brokers using these MetaTrader terminals, the in-broker comparison of the different features showed mixed results. For instance, the MT5 terminal is not available for its Cent account or Stock CFDs account. On the contrary, the Stock ECN account works only with the MT5 platform, which is bewildering. The broker's own proprietary copy trading service, known as FXTM Invest, is available only for the ECN Zero and ECN accounts, and the same is true for the MT4 platform.
The service is not available for MT5 users. We would have expected uniformity in product design and service delivery from a company of ForexTime's stature. Nevertheless, traders can open multiple accounts and trade on different FXTM trading platforms without any restrictions. This option will help eliminate the ambiguity related to the choice of trading accounts and platforms.
The broker also provides access to several trading tools, market analytics and educational materials. Some tools, such as the FXTM pip calculator and the FXTM margin calculator, are available for free on the website and can be accessed by anyone. The FXTM pip calculator is a tool that offers traders the pip value of a particular instrument, which helps determine the cash value of each pip of market movement. The FXTM margin calculator, on the other hand, is a tool designed to calculate the minimum margin required for traders to open and maintain positions in their trading accounts. Overall, the choice of platforms is excellent, but customers would benefit if the broker moved to incorporate all services and products into both the MT4 and MT5 platforms.
Has the Company Developed an FXTM App for Android & iOS Devices?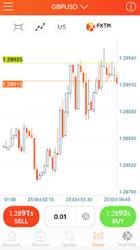 We wondered why the company never developed a proprietary FXTM app for desktop users, but it does appear that it is slowly foraying into the proprietary app market by launching a mobile app for Android and iOS users. The FXTM Trader is available for download from the Apple App Store and the Google Play Store, and it offers all the important trading functionalities such as charting options, opening/closing positions, managing trading accounts and adding indicators to charts for technical analysis.
The platform is quite lively, especially due to a bright colour theme that is pleasing to the eye. It is easy to get familiar with the platform as all options are neatly laid out, and even a newbie trader will find it easy to set up the platform according to their preferences.
However, if you are not a fan of proprietary apps, you can always choose the MetaTrader mobile option by downloading the MT4 and MT5 apps from the App Store or the Play Store. We never found any significant differences between the MetaTrader apps and the FXTM Trader app for mobile trading. Of course, both apps worked brilliantly, and the features and layouts are more or less similar. Therefore, it boils down to your individual preferences, but most traders might prefer the FXTM Trader app.
Free Money Promotions, Offers & Bonuses at ForexTime
Due to increasing regulatory constraints, ForexTime was forced to abandon its promotional campaigns and steer clear of promoting free money bonuses. Therefore, there are no bonuses on offer, but the broker offers a loyalty program for international clients that sign up under the Exinity brand. The cashback program offers up to $5 for every trade opened by the trader. There is a lifetime limit of $10,000 in bonuses, but the maximum bonus amount may be lower, depending on your loyalty status. Unlike with other brokers, the cashback program is not perpetual, which is a bit annoying.
There are also minimum trading requirements, as clients must transact a minimum number of lots within a certain period. The minimum trading requirements may not be feasible for low-volume traders, making them ineligible for the loyalty program. However, if you do trade frequently, you can receive free cash in your trading account and ensure that you satisfy the minimum trading requirements as well as all the other terms and conditions outlined by ForexTime.
How Long Does It Take to Deposit Funds & Initiate FXTM Withdrawals?
FXTM deposits are super quick and secure, but the best part of funding your account at ForexTime is the fact that you can choose from over 40 different deposit options. The broker supports numerous local deposit options for traders from all over the world, alongside regular choices such as e-wallet payments, credit/debit card payments and bank wire transfers. Traders are also free to send funds to the broker in their local currency, but the base account currency can only be one of four different currencies: the Euro, the US dollar, the British pound and the Nigerian naira.
This may be an odd combination of base currencies, especially with the inclusion of the naira, but every other local currency will be converted to one of the four base currency options before being added to the trading account.
For e-wallet FXTM deposits, the broker allows deposits through PayPal, Skrill, Neteller, WebMoney, QIWI Wallet, PerfectMoney, YandexMoney and other online payment processors. The broker does not charge any fees or commissions for most of its funding options, but FXTM withdrawals may incur a transfer fee. The broker may charge up to 2% fees for withdrawals, while bank wire transfers can cost around 30 EUR. The usual Anti-Money Laundering laws apply here, which prevents traders from withdrawing funds to an account other than the one used to deposit funds.
FXTM Deposit Options
Deposits Availability
Min. Deposit
Deposit Fee

Deposits Availability:

2 hours

Min. Deposit:

$50

Deposit Fee:

No commission

Payment Methods:
Nevertheless, an FXTM withdrawal request is processed within the hour, and most payments are done on the same day. E-wallet transfers are even quicker, with the entire payment cleared within a few minutes. The broker claims an impressive withdrawal processing time, with 84% of withdrawals processed in under five minutes and backed by external audits done by PwC. Therefore, we are certainly impressed by the FXTM withdrawal policies, which ensure that all clients' payments are completed on time.
FXTM Withdrawal Options
Transaction Time
Min. Withdrawal
Withdraw Fee

Transaction Time:

Same business day

Min. Withdrawal:

-

Withdrawal Fee:

No commission

Payment Methods:
A Brief Comparison of the Cost of Trading between FXTM Forex Accounts
The cost of Forex trading is generally low at ForexTime, as the FXTM spreads are quite competitive. The minimum spread for the standard account is 1.5 pips, but ECN accounts offer spreads as low as 0.1 pips. We saw raw ECN spreads of around 0.2 to 0.5 pips under typical market conditions, while the zero-commission ECN accounts quoted around 0.4 to 0.8 pips for the major currency pairs such as EUR/USD.
There is a commission for the standard ECN account, which charges $2 per lot single side and $4 per round lot traded. However, the standard account spread under real market conditions was in the region of 1.5 to 2 pips, which is not too low, but quite acceptable, considering the limitations of dealing desk protocols adopted for these accounts.
Of course, the broker's Pro account option is the absolute best in competitive trading costs since the typical spread was always quoted around 0 to 0.5 pips on average. The Pro account also does away with any form of commissions, which makes it the perfect account for low-cost Forex trading. However, the initial deposit requirement of $25,000 is quite high, making the ECN account the safest and most economical trading account at ForexTime.
The broker also charges a SWAP fee for trades that are held overnight. The SWAP fees are determined according to the currency pairs' underlying interest rates, and the precise SWAP rates are published through the broker's contract specifications page on its website. SWAP rates are eliminated for Islamic account holders, but they will still have to pay a fee to make up for the losses incurred by keeping the positions open overnight. Most currency pairs incur a negative SWAP for both long and short positions, but a few currency pairs offer a positive SWAP, which pays the trader a SWAP fee for keeping positions open overnight.
There are a few additional costs for trading, which are ancillary. If you wish to enrol in the FXTM Invest program as an Investor, you will need to pay a fee to the Strategy Manager to copy their trades. You don't get access to any FXTM trading signals, but copy trading is more effective through social trading platforms. However, if you wish to become a Strategy Manager, you can earn money by allowing investors to copy your trades.
Another fee is the account inactivity fee, which can be anywhere from $5 to 3% of the trading capital. The broker may deduct these charges after 60 days of account inactivity, and the charges can run up to hundreds of dollars for accounts with sufficient equity. Finally, an FXTM withdrawal is accompanied by a commission, where the broker may charge up to 2% of the withdrawal amount. Aside from the spreads mentioned above, fees and commissions, the broker does not charge any hidden fees.
Security of Funds – A By-Product of FXTM Regulation?
ForexTime leads by example, as the broker is one of the prime examples of how proper regulation, routine third-party audits and a commitment to quality can elevate brokers to new heights. In Europe and the UK, FXTM is regulated by CySEC (185/12) and the FCA, both of which follow the ESMA and MiFID guidelines for financial companies. Investor compensation programs such as the FSCS and the ICF are some of the regulators' basic protectionary measures to promote traders' safety against broker insolvencies.
Regardless, the company's EU and UK brokerages aren't available to international traders, which necessitated a Mauritius branch. Exinity Limited, ForexTime's global brokerage brand, is regulated by the Financial Services Commission of the Republic of Mauritius. Interestingly, the Mauritius branch offers its services to residents of Mauritius. Nevertheless, the FSC cannot be considered as advanced as the FCA or CySEC in protecting the interests of traders, but the broker has ensured that it treats all clients equally without any prejudice. It follows regulatory compliance measures such as segregation of clients' funds and routine audits for its entire brokerage platform.
Getting in Touch with FXTM's Customer Service Team
The company's customer support staff is on call 24 hours a day, responding to your calls, emails and live chat queries seven days a week. A simple search through the FAQ section of the company's official website should give general clarity to most questions, but if you prefer, you can always get in touch with the broker for additional information. ForexTime takes care of its customers and always responds to any concerns raised, even if it means responding to traders in online forums. Nevertheless, in our experience, we found the broker's interaction to be top-notch, and we believe ForexTime is one of the few brokers to offer a high-quality customer service experience.
FAQ
How Long Does It Take to Withdraw from FXTM?
Most withdrawals are processed within five minutes, and the funds should reach your account within an hour for e-wallets and within a week for wire transfers.
What Are the FXTM Withdrawal Fees?
The broker may charge up to 2% of the transaction amount for e-wallet withdrawals and up to $30 for wire transfers.
Does the Broker Provide an FXTM App APK?
No, the broker does not provide an APK file for its Android platform.
Does the Broker Host Any Trading Tools on Its Website?
Yes, the broker hosts a few calculators, such as the FXTM pip calculator and the FXTM margin calculator.
Does the Broker Provide FXTM Trading Signals?
No, the broker provides only a copy trading service, known as FXTM Invest.