Saxo Bank Forex Review – Trading FX and CFD Markets with a Global Investment Bank
Saxo Bank is a well-known Danish investment bank that offers various OTC instruments such as equities, derivatives, and CFDs for professional traders. It is headquartered in Copenhagen, Denmark, but has offices in Australia, China, the Czech Republic, Dubai, France, Hong Kong, India, Italy, Japan, Netherlands, Singapore, Switzerland, Turkey, and the UK. The company's global presence is backed by more than 25 years of hands-on involvement in numerous OTC and CFD markets, making it synonymous with trust, security, and reliability.
However, traders from the United States and Canada cannot open an account or trade with a Saxo Bank forex account. This led to a huge point of contention among our experts while creating this Saxo Bank review since a company of Saxo Bank's stature could easily set up a branch in the United States and cater to American clients. Regardless, Saxo Bank is right there among the best that the industry has to offer in terms of regulatory protection. Therefore, we went ahead and created this comprehensive Saxo Bank forex review to investigate the company's promises and evaluate whether they translate into measurable real-world trading performance.
Low commissions and tight spreads
VIP benefits and Saxo rewards
Intuitive trading tools
24-hour expert service
BANK-WIRE
VISA
MASTERCARD
Assets:

Spread:

Platforms:

Security:

Max Leverage:
Advantages and Drawbacks of Opening a Saxo Bank Forex Account
Most mainstream forex brokers develop their products to suit the needs of beginner and intermediate traders, which severely cripples the options for advanced and large-volume traders. However, Saxo Bank is one of the few exceptions since it is primarily geared toward professional traders managing large funds. It may also be one of the pitfalls of the company since it alienates the smaller retail trading market with a high Saxo Bank investment requirement. Regardless, if you are serious about your forex and CFD trading prospects, read our detailed Saxo Bank forex review to find why SaxoBank is one of the best choices for professional FX trading.
Pros:
Highly regulated investment bank.
Excellent levels of security and regulatory protection offered traders.
Wide coverage of markets with more than 40,000 instruments from 11 asset classes.
Leading proprietary trading software with excellent mobile apps.
Partnerships with top firms offer great market insights.
Excellent support for third-party trading tools.
Competitive pricing with no hidden costs.
---
Cons:
High Saxo Bank minimum investment requirement not suited to smaller retail traders.
Does not have a presence in the United States.
Cost of miscellaneous services.
The company delivers a superior platform with all the right components to offer a complete trading environment. Throughout this Saxo Bank forex review, we kept discovering several attractive features that help traders access the market in its entirety. Hence, opening a Saxo Bank forex account is certainly a recommended choice for professional traders.
Which Type of Saxo Bank Forex Account Should You Choose?
A Saxo Bank investment platform should be considered a gateway to an advanced trading environment, where there are two categories of Saxo Bank forex accounts on offer. The first category is designed around the minimum Saxo Bank investment requirement. In contrast, the other category is reserved for those who wish to recategorize their account to Elective Professionals status. The first category of accounts is further divided into 3: Classic, Platinum, and VIP. The Classic account is the most basic choice, where the Saxo Bank minimum investment requirement is $2,000. Of course, the Saxo Bank minimum deposit requirements can vary according to the trader's country of residence, as the broker may stipulate a minimum of $10,000 in some countries. However, the Classic account has the highest trading costs, and the pricing of securities is not as competitive as the Premium or VIP accounts.
For tighter spreads, lower commissions, and better pricing of instruments, you have to choose the Premium account, where the Saxo Bank minimum deposit is $200,000. Of course, it is quite a steep increase over the Classic account, but you do get access to some of the best trading conditions in the market that promises up to 30% lower prices than most of the other mainstream Forex brokers. You can also use priority local-language customer support, which is an added advantage. Nevertheless, we could not find any other significant benefits that would warrant such a high investment barrier over the Classic account, which renders the Premium account irrelevant for small-volume retail traders.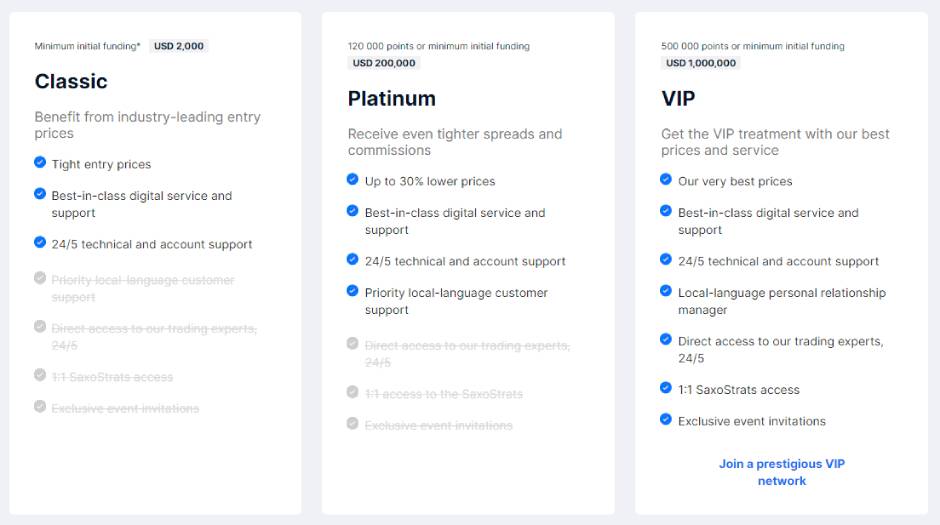 Finally, the broker has reserved its best trading conditions for VIP account holders. Traders are offered tight pricing, optimum entry prices, lowest spreads, and many other trading benefits. VIP customers are even given 24/5 access to trading experts, exclusive invitations to events, and other premium services such as SaxoStrats, which feel extremely beneficial, but the minimum Saxo Bank deposit is $1,000,000. The Platinum and VIP accounts are certainly beyond the scope of smaller retail traders. Still, as we mentioned at the beginning of this Saxo Bank forex review, the broker targets advanced and professional traders for its products and services.
The broker offers a Professional account option with Elective Professionals status for those who prefer unhindered market access. Saxo Bank forex accounts under Elective Professionals status are offered to professional traders who would like to waive the usual regulatory protections put in place by brokers to protect less-experienced traders. These protectionary measures include higher margin requirements, negative balance protection, and other trading restrictions designed to minimize the risk to inexperienced traders. However, Elective Professional accounts are only offered to advanced traders who understand the risks of the market and can demonstrate their experience or knowledge of the financial markets. In such a case, advanced traders can enjoy more leverage and lower product restriction, and there is an option to open either an individual account or a corporate account. The Saxo Bank minimum investment for a Professional account is the same as the Classic, Premium, and VIP accounts.
Registering a Saxo Bank Forex Account for Trading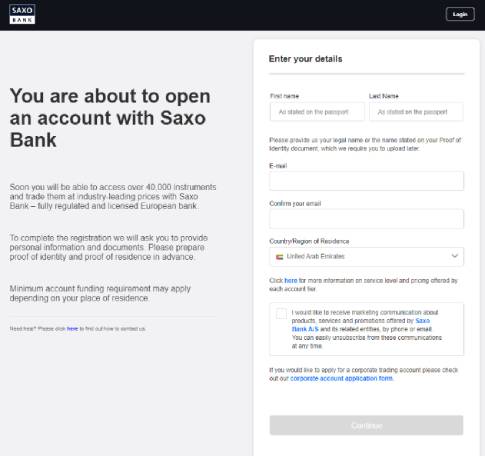 We registered a real trading account for this Saxo Bank review, which can be done through their website or the mobile Saxo Bank app. Once you enter your basic information such as name, e-mail, and country of residence at the signup page, you will be asked to complete the broker's KYC process, where you have to submit your residential address, personal details, employment details, financial information, trading experience, and tax information. You will also be required to choose your basic account currency and provide a basic idea of the extent of Saxo Bank investment you are willing to deposit for trading purposes, along with an estimate of your net worth, salary, and an account of investable assets. You must also read through the broker's general business terms and conditions and accept them to complete the registration process. Finally, you have to set your account password and verify your phone, after which your details are forwarded to the accounts department for review and approval.
As a regulated entity, Saxo Bank takes a lot of precautions while granting clients access to its platform. All account applications are reviewed through a stringent review process, and the company takes anywhere from 5 to 10 working days to process an application and approve a new client. Of course, you can manage your account and deposit funds in the meantime, but the broker may seek your identity documents and ask you to verify your account before commencing trading. Once you have a verified account, you can proceed to make your first Saxo Bank deposit and even perform a Saxo Bank withdrawal at any time without any restrictions.
An Overview of the Saxo Bank Apps and Trading Platforms
There are two award-winning platforms on offer, which, when combined with supported third-party trading tools and API options, offer a unique set of professional trading tools to suit the needs of even the most advanced trader. SaxoTraderGo, a mobile Saxo Bank app, can be installed on both mobile and tablet devices. At the same time, SaxoTraderPro, which is dedicated to desktop trading, is available for both Windows and Mac OS users. For desktop traders, the company also provides access to the MT4 terminal. Still, the broker is highly intent on promoting its proprietary Saxo Bank apps as the default choice for all clients. One Saxo Bank forex account grants access to all the different platforms, making it easy to switch between apps without any hassles. Nevertheless, this section of the Saxo Bank review is designed to offer a more in-depth evaluation of the broker's desktop trading interface. In contrast, the mobile Saxo Bank app review is covered in the next section.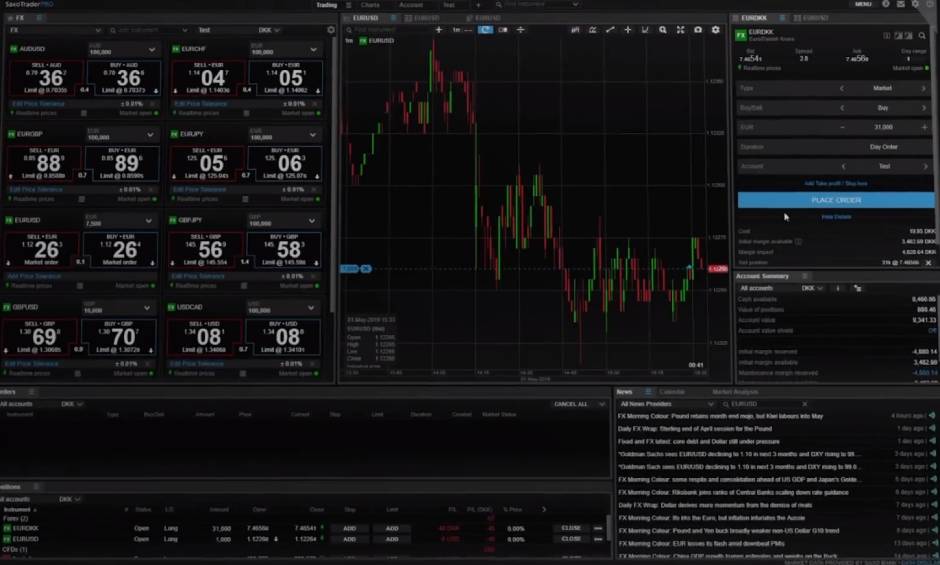 The SaxoTraderPro interface is an ultra-modern trading interface that supports up to six monitors, and the workspace is fully customizable according to individual trader needs. The drag-and-drop modules can be placed anywhere, stretched to fit the screen, minimized, or even transferred to another screen to create an ample workspace. Several advanced tools are on offer, such as the Depth Trader, where traders have full control over their orders, markets, and trading charts through the trading terminal.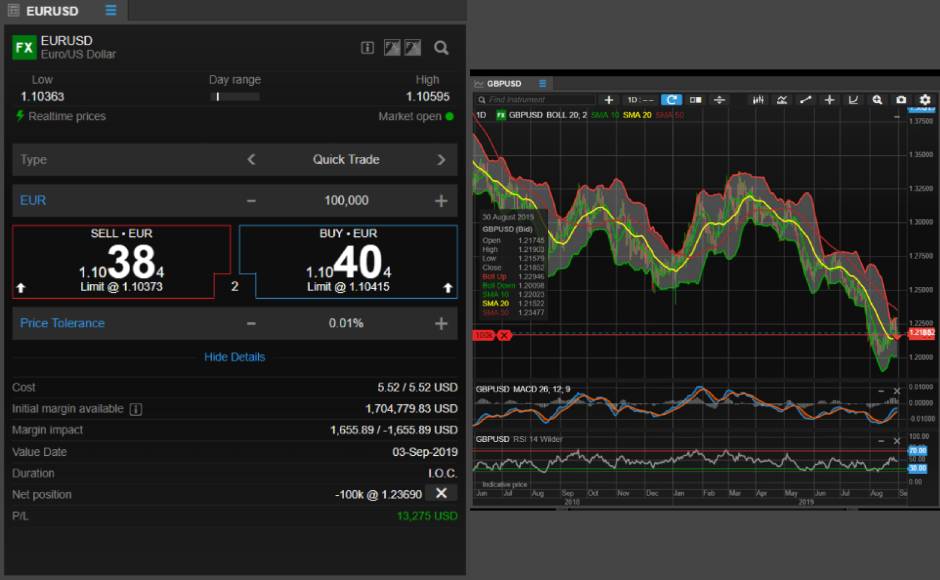 The platform adopts a white-on-black theme that is easy on the eyes, but it does not compromise the utility or aesthetics of the platform in any way. However, the most impressive attribute of the interface is the trading speed and the availability of advanced trading tools, including over 50 technical analysis indicators that can be added to the charts. The trading dashboard displays all the information you need, even specifying your account equity, floating P/L, and other account and trading parameters. However, you can also access the Advanced Trade Ticket, which opens up a separate window displaying all the relevant details of a specific instrument, where traders can monitor their positions, evaluate fundamentals, and open/close/manage their orders in a couple of clicks.
The SaxoTraderPro application is supported by several third-party trading tools and API support. From Saxo APIs to Open API, the broker grants access to multiasset liquidity and full back-office functionalities through its partnership and connectivity to leading providers. Some available third-party trading tools include Dynamic Trend, TradingView, MultiCharts, MT4, Updata, and Excel. Of course, most of these tools are provided free of cost since the Saxo Bank minimum investment by way of a first deposit covers the cost of all individual subscription and licensing charges. However, some services may incur additional usage or licensing fees, which can be eliminated by speaking to your account manager and increasing your Saxo Bank investment. A detailed analysis of Saxo Bank transaction fees is provided later in this Saxo Bank review.
Mobile Saxo Bank App – SaxoTraderGo Review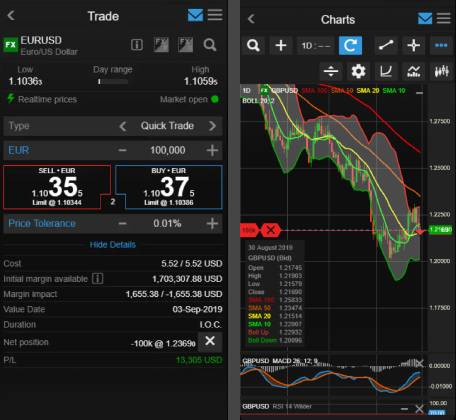 The broker's user statistics reveal that SaxoTraderGo is the most preferred trading platform for most of its clients. We understand the appeal since the company has developed an intrinsically superior mobile app that offers almost all the same features as its desktop-based SaxoTraderPro terminal. Of course, a mobile platform does not offer the extensive workspace and advanced trading tools offered by a desktop app, but it does enable traders to make advanced trading choices on the move. The mobile app is available for Android and iOS devices and can be downloaded from Google Play and the App Store, respectively. The broker has developed a responsive interface to ensure that the app retains excellent usability for both smartphone and tablet users.
The mobile platform uses the same white-on-black theme as the desktop interface. Order execution speeds, platform navigation, and charting options are also similar, but the usual problems of a smaller screen were persistent here. We believe SaxoTraderGo is simply one of the best mobile trading apps in the market, but the workspace and trader dashboard is a bit cramped for our liking. The app is only good for trading on the move, but if you want access to the full suite of trading features, you should download the SaxoTraderPro interface. Nevertheless, mobile users access powerful trading tools such as an enhanced trade ticket, news and expert research, technical/fundamental analysis tools, Option Chain, and an extensive charting package.
Additionally, the mobile Saxo Bank app allows traders to manage their accounts through the account section. It offers a summary of the portfolio held by the traders, an analysis of trading performance, and a breakdown of the gains and losses incurred by the trader. The app allows users to make a Saxo Bank deposit or even perform a Saxo Bank withdrawal at any time. Therefore, it is indeed a must-have for traders who are constantly on the move, especially if they have to monitor their trades or perform account-related transactions in an instant.
If you do not want to download the Saxo Bank app on your mobile, you can also access the SaxoTraderGo web app via your web browser. The web version is similar to the mobile app in terms of design and navigation, but the responsive theme is equally good for desktop trading. Therefore, it is indeed a good option for those who do not wish to download or install the company's proprietary apps.
Bonuses and Promotions Offered for Saxo Bank Forex Accounts
Our Saxo Bank forex review discovered that traders would not receive any free incentives for opening an account. The strict regulatory compliance measures adopted by the broker are primarily geared toward protecting traders from any form of malpractices or abuse, including issues related to bonus T&C. Therefore, there are no bonuses, offers, or free money promotions on offer. However, the company offers a loyalty program that allows traders to earn reward points for every qualifying trade. The reward-based loyalty program allows traders to earn points relative to the transactional activities carried out during a certain period. For instance, performing a Saxo Bank deposit and trading different asset classes contribute to the points tally, but the actual points vary according to the nature of the transaction.
Unlike other loyalty programs, the Saxo rewards program does not offer gifts or prize money. Instead, accumulating these loyalty reward points allows traders to upgrade to a higher category of account, which offers better securities pricing, competitive costs, and other account benefits. In other words, it offers a chance for lower-tier account holders, such as Classic account traders, to upgrade to Platinum or VIP accounts without meeting the Saxo Bank minimum deposit requirement. It can be a great way for small-volume traders and scalpers to quickly rake up the points to move to a higher category of account, but always ensure that your trading activity complies with the broker's general terms and conditions.
Funding Your Saxo Bank Forex Account – Deposits and Withdrawals
A Saxo Bank deposit can only be made through a card payment or a bank wire transfer. As evidenced by the high Saxo Bank minimum deposit requirements, the company only targets the well-funded section of the retail trading community, along with institutional and corporate investors. Therefore, you are certainly out of luck if you prefer other mainstream options such as an e-wallet or cryptocurrency payment as a valid Saxo Bank deposit method. Of course, the broker does allow local payment options for some of its regional brokerages. Still, the more straightforward option is to deposit funds via a debit/credit card or a wire transfer. Alternatively, you can also transfer your shares, portfolio of stocks, or mutual fund holdings over to a Saxo Bank forex account, but you will have to deposit funds to indulge in FX and CFD trading.
All deposits are handled through secure payment gateways, and the funds are moved directly to segregated accounts that are kept away from the broker's operating funds. All deposits are handled per the stringent regulatory guidelines enforced by the licensing authorities, which safeguard clients' money from financial abuse or malpractice. The company also performs routine audits to ensure that all funds are appropriated according to its operating guidelines and that no ambiguities will put traders at risk.
Saxo Bank Deposit Options
Deposits Availability
Min. Deposit
Deposit Fee

Deposits Availability:

Immediate

Min. Deposit:

$1

Deposit Fee:

Depending on the transaction currency

Payment Methods:

BANK-WIRE

VISA

MASTERCARD
The Saxo Bank withdrawal process also adopts strict guidelines to guarantee that funds are not transferred illegally. The broker does not facilitate third-party withdrawals, which is why they ask all their clients to verify their identity before granting access to the trading platform. To initiate a Saxo Bank withdrawal, you have to place a request through the app, which will send you an SMS with a code to verify your request. Withdrawals will only be processed once the code is verified and if the user's account credentials match the information submitted to the broker. As a result, a Saxo Bank withdrawal is usually processed within the next working day if all information is accurate. There is no Saxo Bank withdrawal fee, but intermediary or destination banking charges are out of the company's purview. Nevertheless, the funds should reach you within a couple of days, but there may be delays if the transaction involves intermediary banks. In our case, the withdrawal reached our account within three days after initiating the request.
Saxo Bank Withdrawal Options
Transaction Time
Min. Withdrawal
Withdraw Fee

Transaction Time:

Same business day if requested before 14:00 CET

Min. Withdrawal:

-

Withdrawal Fee:

-

Payment Methods:

BANK-WIRE

VISA

MASTERCARD
Saxo Bank Transaction Fees, Costs of Trading, and Trading Conditions
The company is transparent with its transaction costs, spreads, commissions, and other miscellaneous charges. First, let us examine the spreads quoted by the broker's forex instruments. The basic spread for the EUR/USD pair starts at 0.6 pips for the Classic account, reduced to 0.5 pips for the Platinum account and 0.4 pips for the VIP account. The broker does not charge any commissions for these instruments, and traders access DMA conditions and the interbank liquidity pool with no intermediary charges. Therefore, considering the trading conditions on offer, the spreads are highly competitive even for the Classic account.
Of course, the spreads may increase during low liquidity, but the company's global partnerships with multiple liquidity providers always ensure sufficient liquidity to execute most orders. During our Saxo Bank forex review, our average spread remained within 1.1-1.5 pips for the EUR/USD pair, which was slightly expensive, but we should mention that the spread was quoted for the Classic account. We are sure that the spreads would be lower for the Platinum and VIP accounts, which can be more cost-attractive for high-volume traders.
The Saxo Bank transaction fees for other instruments, such as crypto assets, options, CFDs, stocks, commodities, ETFs, futures, and bonds, are also among the most competitive in the market, with commissions on commodities and futures being charged as low as $0.85 per lot. Additionally, all instruments also involve a rollover fee in the form of SWAP for overnight positions, calculated based on the instrument traded and the prevailing interest rates. Nevertheless, there are no hidden Saxo Bank transaction fees, ensuring a transparent cost structure for all assets.
Although the broker does not charge any Saxo Bank transaction fees for using its proprietary platform, the company may charge a subscription fee for level II market data. Some APIs and trading tools may incur additional charges, including subscription costs for automated market scanning programs and virtual server access. Traders may also be charged custody fees for stocks, ETFs, ETCs, and bonds, while additional costs may be incurred for transferring shares from another broker to SaxoBank. You should also consider the account inactivity fee, where traders have to pay up to $150 for every six months of no trading activity. You should get in touch with the broker if you are unsure about the exact costs charged by SaxoBank in your country, as these costs can differ for different regions.
As far as trading conditions are concerned, the direct market access liquidity offered by the broker is truly remarkable, with smaller position sizes filled at a rapid pace. Most traders will be satisfied with the order execution policies adopted by the broker, but there is a possibility of partial order fills and slippages during volatile market conditions. Liquidity is not a problem for most orders since the company thrives on delivering some of the best trading conditions through its partnership with some of the world's leading liquidity providers and ECNs. However, on the downside, low-volume traders may not be able to employ as much leverage as they need since even professional trading accounts are only provided a maximum leverage of 1:66. Nevertheless, the trading conditions at Saxo Bank are well-suited for professional trading, and we are glad that the company has kept its promise of offering the most conducive trading environment for advanced traders.
Regulatory Implications of a Saxo Bank Forex Account
One of the key deciding factors that tilt the scales in the company's favor is its regulatory compliance. The Danish FSA predominantly regulates the broker for its brokerage services, while internationally, it is also regulated by the FCA (reference number 551422) of the UK, MAS of Singapore, FINMA of Switzerland, AMF of France, IMA of Italy, the Bank of Netherlands, FSMA of Belgium, the Czech National Bank, SFC of Hong Kong, ASIC of Australia, FSA of Japan, and DFSA of Dubai. These agencies are some of the most advanced regulators in the entire market, and obtaining a regulatory license from these regulators is a reliable indicator of the broker's commitment to investor safety. With so many regulators supervising the activities of the broker, a Saxo Bank investment is safe and secure even for well-funded clients. Regulation is one of the primary reasons why our Saxo Bank review is critically positive toward the company's overall services portfolio.
Is It Easy to Contact Saxo Customer Service for Problem Resolution?
The broker provides an elaborate support center that provides an extensive resource to answer all common questions. However, if you are still unable to find a resolution, you can contact the customer service department by raising a ticket through the app or talking to the customer service team directly through the chat function. If you cannot access the platform to raise a ticket or initiate a chat, you can send an e-mail or call a local office nearest to you. The company offers direct-access phone numbers to its offices in 26 countries, which is guaranteed to help you resolve your issue at the earliest. We are slightly disappointed that the live chat function is not provided on their website, which means that you have to be a verified client to communicate to the customer service department.
FAQ
Is a Saxo Bank Investment Safe?
Yes, investing funds in their trading account is safe and secure.
What Is the Saxo Bank Minimum Deposit?
The minimum deposit requirement for a Classic account is $2,000, but it can be higher for traders from some countries.
What Is the Saxo Bank Withdrawal Fee?
The company does not charge a withdrawal fee.
Is a Saxo Bank Forex Account Regulated?
Yes, it is regulated by 13 tier-1 regulators.
Does the Broker Allow Scalping and Hedging?
Yes, traders are free to employ any trading strategy.
Are There Any Hidden Saxo Bank Transaction Fees?
No, there are no hidden fees. An analysis of the trading charges is provided in the cost analysis section of this Saxo Bank review.
Does This Saxo Bank Forex Review Recommend Opening a Trading Account?
Yes, we recommend opening an account with Saxo Group.