Plus500 Review – Online Forex Trading with an Established Broker
Plus500 has been around for a while now and has proven itself a leading FX broker in the market. It started operating in 2008 but quickly climbed up the rankings to establish a positive reputation among retail traders. Its continued devotion to innovation and constant improvements in their services have allowed the company to cater to a large community of traders, and it continues to be active in the market by sponsoring various sports teams to improve its brand's credibility.
One of the most interesting observations we made during the Plus500 review process is that the firm is publicly traded on the London Stock Exchange, which increases its credibility among a sea of bogus FX operators. Furthermore, the broker joins an elite league of brokers who have achieved this recognition, as we don't often see a Forex broker listed in a major stock exchange of the world.
The broker also has an impressive collection of tradable assets in its portfolio, allowing traders to access major financial markets through a single trading platform. In this Plus500 Forex broker review, we will be covering quite a few of the company's attributes and compare its online trading services with some of the best forex brokers in the industry.
Wide range of financial instruments
24/7 Live support team
Real-time market execution
Intuitive mobile trading apps
VISA
SKRILL
NETELLER
BANK-WIRE
PAYPAL
Assets:

Spread:

Platforms:

Security:

Max Leverage:
Is Opening a Plus500 Account Worth It? What Are the Plus500 Account Types?
A Plus500 account is certainly a great option for those looking for a trusted and reliable Forex broker. The company offers many unique features geared towards retail traders. First, it is properly regulated and audited to the best of industry standards. Second, the broker offers some of the highest numbers of financial instruments in its product portfolio, making it the perfect choice for those who require access to a diverse range of financial instruments. However, all is not well as it may appear from the outset.
We have unquestionably also found some drawbacks. Let us now discuss a few pros and cons of opening a Plus500 account, and then touch on these points in detail later in the review.
Pros:
The widest range of financial instruments in a single Plus500 trading platform.
Heavily regulated and reliable Forex company.
Competitive and transparent fee structure.
State-of-the-art web-based trading platform.
Professional account option for large traders.
Access to deep liquidity pool.
---
Cons:
Does not accept traders from some countries.
No access to popular trading platforms such as MetaTrader or cTrader.
Proprietary trading platform is not compatible with third-party expertAdvisors, indicators, or trading bots.
Plus500 seems to have transformed itself into a company that adheres to every rulebook in its licensed jurisdictions. While it has a positive effect on the security of traders' capital, the flipside is that traders from certain countries, such as the US and India, are unable to open a Plus500 online trading account. There are also inherent drawbacks concerning the bonuses and promotions offered by the company. Therefore, although we would recommend a Plus500 Forex trading account to our readers, we implore you to verify whether the company accepts traders from your country before signing up.
Registering for an account at Plus500 is easy and quite seamless. Clicking on the 'Start Trading' link will take you to the registration page, where you should enter your email and choose a password. Once you create your account, the website will take you straight to the web-based Plus500 app. You can deposit funds into your account, verify your identity and modify all account information within the online Plus500 trading platform itself.
Despite the ease of registration, you should be diligent in your account sign-up process. Always ensure that the broker accepts traders from your region before depositing funds. If for some reason you can't verify your identity after depositing funds, the broker has complete discretion to block your funds and refuse your withdrawal request. Therefore, always read the fine print and contact the customer service team before initiating any financial transaction.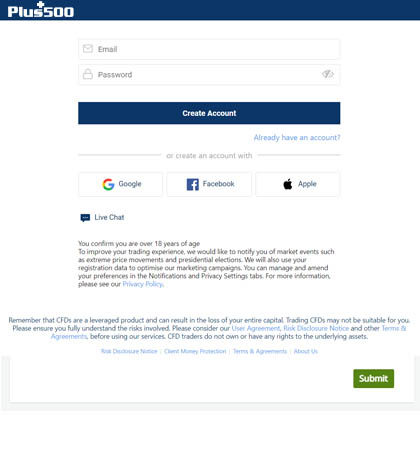 After opening an account, traders will be asked to complete their sign-up process by providing additional information about their personal identity, address and other similar information. You should also verify your account by uploading the required documents, but before continuing, you may be required to take part in a detailed survey to test your knowledge and exposure to the financial market.
The questionnaire is pretty lengthy and contains questions to test whether you are familiar with how the financial markets work, which means that only experienced traders may be able to open an account. However, new traders will be able to sign up for an account, provided they have amassed the necessary skills and know-how to trade responsibly.
Choice of Plus500 Account Types
Plus500 used to be a broker with a wide range of trading accounts in its portfolio, but the company recently switched to a simplified account portfolio. There are two broad Plus500 account types: one is a real account, and the other is a demo account. The real account category is further classified into two types: the Retail account and the Professional account.
The Retail account is the company's primary trading product offered to mainstream customers, while larger investors who can invest upwards of 500,000 units of base currency (typically USD or EUR) are given the option of opening a Professional account.
However, the Professional account is provided only to traders who have achieved a certain level of trading activity within the last trading period, not necessarily with Plus500 but also with other brokers. They must further be able to prove that they possess extensive experience in the financial sector. Both accounts offer similar trading conditions and features, but Professional traders' accounts are custom-tailored to facilitate trading in larger lot sizes. Such a degree of flexibility will enable customers to manage larger position sizes without severe restrictions.
Nevertheless, for retail traders, the regular Retail account option gets them access to the entire suite of financial instruments and trading options, which should be more than sufficient for their trading needs. We are actually impressed by this strategy as it prevents confusion among traders; they can get on with their trading journey as soon as they register their account and make their first deposit.
A Look into the Plus500 Trading Platform
The Plus500 Forex trading platform is a proprietary web-based application that was designed in-house. At the outset, we would like to commend the broker for a job well done. The interface is quite slick and easy to navigate and, best of all, the layout is spot-on. The navigation links and menu options are kept to the left and out of the way so that the central portion can prominently display the list of instruments, their pricing information, the chart and the trading terminal. You can also choose between a light theme or a dark theme, add/edit/remove financial instruments, mark your favourites, and select the market with just a single click.
Overall, our first impressions were pretty remarkable, and you should feel right at home with the Plus500 Forex trading platform, even if you are new to trading.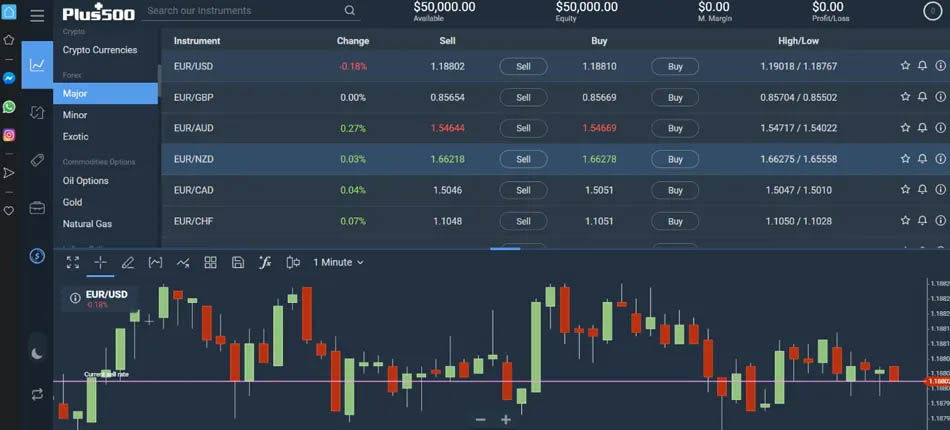 Moving on to the charting section of the Plus500 app, we found that the price chart features a lot of tools and indicators we usually only expect from a dedicated desktop app. Traders can maximise the chart to fill the entire trading area, add indicators, change the time frame, add lines or drawings to the chart, and even save the chart as a new layout or a new view. You can click on the 'buy' or 'sell' buttons, which open up the trading terminal to the right to open a trade. It provides you with the option to enter your position size and set your trading parameters, such as setting up a take-profit or a stop-loss level.
If you want more detailed information about your trade set-up or a particular instrument, there is also a collapsible 'information' menu. We found this information snippet to be highly useful, as we could prepare our trading strategies by referring to the data directly from the app.
Apart from the WebTrader, there is also the option for Windows 10 users to download the app from the Microsoft Store. It offers the same interface as the WebTrader but we feel that there a slight improvement in trading performance. We believe the desktop app might have a slight advantage in usability, as it uses system resources more efficiently.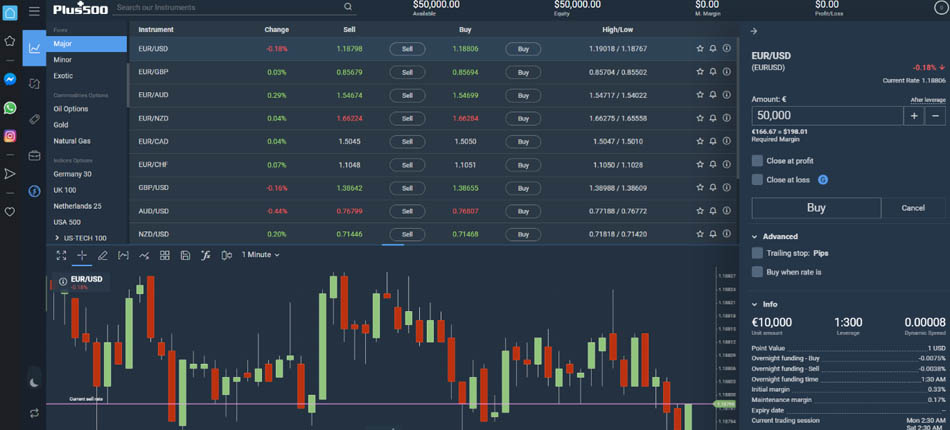 Now let's consider some of the negative aspects of the Plus500 trading platform. The first major drawback is that the broker does not offer mainstream third-party trading platforms such as the MT4, MT5 or the cTrader. Ardent users of these platforms, often professional traders, are bound to notice the difference in trading. These third-party trading apps are immensely popular among professional traders.
That brings us to the second drawback: the lack of compatibility with third-party trading tools and indicators. The main advantage of using platforms such as the MT4 is the availability of countless open-source indicators, expert advisors and other trading tools, but the Plus500 app does not offer these conveniences.
Therefore, there is no room for traders to experiment with the new tools available in the open-source MQL forums. Third, although the web-based Plus500 Forex trading platform is incredibly useful and aesthetically appealing, its actual performance is quite dismal. The interface's fluidic nature did contribute to the lagging feeling, which can be very frustrating for scalpers and their high-frequency trading strategies.
The Windows 10 app addresses this issue, minimising the lag to a great extent. Nevertheless, those looking to trade the markets with the existing tools offered by the broker should enjoy the trading experience.
Plus500 App for Mobile Devices – Smartphones & Tablets
The WebTrader assumes its duties as the default Plus500 app for mobile devices, both for iOS and Android platforms. The developers' responsive layout design ensures that the screen always fits snugly on any device, which makes the app usable on both smartphones and tablets. Regardless, we faced the same issues as with the WebTrader desktop version, where there is a small delay in windows popping up after they are activated. The responsive layout continues on mobile devices, which is a good thing, but traders may not appreciate the precious few moments lost in animation.
Android users can also install the Plus500 mobile app on their smartphone or tablet, which further enhances its appeal to Android users. However, iOS users have no such luck, which may affect the user experience slightly. Regardless, the performance attributes, features, usability, functions and even the layout of the Plus500 Android app are at par with the WebTrader. The mobile app is available for download via the Play Store, but is accessible only to traders from countries accepted by the broker's geo-targeting filters. The company takes great care to ensure that the app is not offered to traders in countries where it does not accept clients.
How to Get a Plus500 Bonus – What are the Existing Promotions?
The broker operates various entities under different licences; hence, the company explicitly states that its Cyprus brokerage does not offer any promotions. The company is forced to refrain from indulging in any bonus-related promotional activities due to the need for regulatory compliance. Nevertheless, traders opening an account at other brokerage divisions can opt for a Plus500 bonus, starting at $150 free trading credits for a $500 deposit. The company has not provided any other specific bonus packages for its international customers, but its Australian brokerage website specifies a TP-related bonus structure.
As per the bonus program, traders are eligible for a maximum bonus of $15,000 for a $75,000 deposit, which equates to a 20% deposit bonus. Of course, the denomination is AUD, but it should be fairly representative of what international traders can expect from the company while depositing funds. If in doubt, you can always get in touch with live chat or your account manager to check the available bonus for your deposit. Although bonuses can increase your initial capital, it is risky as these bonuses are subject to certain terms and conditions. You should accumulate a minimum trading volume within 90 days to retain the bonus or withdraw it, failing which the company will reverse the bonus and it will be taken out of your trading account.
Depositing Funds & Plus500 Withdrawal Options
To deposit funds into your Plus500 online trading account, you must first verify your identity, although it is not a prerequisite. Verification can be done by entering your personal information and uploading your identity documents through the WebTrader or the mobile app.
If you run into any issues, the live chat feature is just a click away, where a customer service representative will walk you through the entire verification procedure. Verification does take time, and you can expect your account to be verified within anywhere between 24 hours and three working days. You should also ensure that the documents you upload are recent and have clear edges with legible text, or the broker might ask you to upload them again.
The company is pretty strict about complying with regulatory guidelines and there is no workaround for the verification process. We are glad that the broker has made the verification procedure mandatory for withdrawing funds. It helps protect the trader against any violation of the broker's T&C regarding accepting customers from certain regions. However, make sure you have a verified account before depositing funds.
Plus500 Deposit Options
Deposits Availability
Min. Deposit
Deposit Fee

Deposits Availability:

Between 1-3 days

Min. Deposit:

$100

Deposit Fee:

Sender may pay bank wire fee

Payment Methods:

VISA

SKRILL

NETELLER

BANK-WIRE

PAYPAL
Once your account is verified, you can deposit funds into your Plus500 Forex trading account and start trading. There are 14 different deposit options: Visa, MasterCard, bank transfer, PayPal, Skrill, iDeal, BPay, Klarna, GiroPay, Trustly, Przelewy24, MB, MyBank, and blik. The minimum deposit limit is $100, which is quite manageable, but not as low as for some of the other brokers in the market.
Still, $100 gets you access to some of the best financial instruments and trading tools, aided in part by the fantastic sense of security and reliability offered by the broker's regulatory status. To initiate a Plus500 withdrawal of your funds, you can click on the 'withdrawal' link in the app and specify your withdrawal amount.
Withdrawal can be processed only for the same account used for depositing funds, similar to the strategy adopted by most regulated brokers. Under regular conditions, the Plus500 withdrawal is processed within 24 hours, but there can be delays owing to verification problems, closure of the market, or other general delays.
Plus500 Withdrawal Options
Transaction Time
Min. Withdrawal
Withdraw Fee

Transaction Time:

Up to 2 days

Min. Withdrawal:

-

Withdrawal Fee:

Determined by broker's rate

Payment Methods:

VISA

SKRILL

NETELLER

BANK-WIRE

PAYPAL
Nevertheless, traders will receive their funds within two to five working days. The broker does not charge any fees for deposits, as it absorbs the costs for most payment methods. Regardless, the broker may charge a fee for withdrawal, depending on the withdrawal amount and payment method.
Fees & Commissions for Trading & Other Trading Conditions
The company is known for its ultra-competitive spreads, as the EUR/USD pair charges only 0.8 pips spread during regular trading hours. It promises to offer even lower spreads of up to 0.6 pips spread during high liquidity times. Therefore, it is an incredibly attractive cost advantage for traders, especially for high-frequency traders, considering that some ECN brokers charge up to 0.6 pips spread on the same pair along with a commission on trading. Even pairs as volatile as the GBP/JPY charge a low 3 pips spread during regular trading sessions.
Aside from the spread, there is also a funding fee for positions held overnight, which is clearly outlined in the trading terminal. The SWAP fee, as it is known, tends to change for every currency and from time to time. However, these are the only two fees charged for trading, and there are no other hidden charges involved.
As far as the trading conditions are concerned, traders can utilise maximum Plus500 leverage of 1:300 for Forex pairs and indices, while the leverage is reduced to 1:150 for commodities and 1:100 for ETFs. Shares and crypto instruments offer leverage of 1:20, while options offer only a maximum leverage of 1:5. In total, the broker offers anywhere north of 2000 different financial instruments across seven different asset classes. If you are looking for an all-in-one broker to access the global markets, a Plus500 Forex broker account should be your primary choice.
As a market-maker, the company may not provide as deep liquidity as an ECN or STP broker, but it does have a huge network of liquidity pools and providers to ensure that larger orders are filled at market price with as little slippage as possible. Smaller traders should find it easy to trade under regular market liquidity conditions, but larger trades may induce slippages and partial order fills. Nevertheless, the broker does promise the best trading conditions, but we have yet to see how the Professional account fares when traders try to open huge positions at market prices.
The Plus500 trading platform allows traders to open, manage and close their positions in the market with the usual set of trading tools for setting a market order, limit orders, take profit and stop-loss levels. The charts are also pretty useful, alongside the info menu and the economic calendar, both provided in the trading terminal. Our only disappointment is that there is no room for customisation of trading strategies, an option for strategy testing or additional tools/indicators usually available with third-party trading apps such as the MetaTrader and the cTrader.
Is Plus500 Safe? Regulatory Information & Compliance
We are usually apprehensive about brokers that claim to be regulated and display bogus licences on their website. To that extent, is Plus500 safe? Absolutely. Plus500 is one of the safest brokers in the market, and it is not just regulated by a single agency but is licensed by different regulators in various financial jurisdictions to provide FX brokerage services to clients across the world safely and securely.
Of course, there are exceptions, such as the US, Japan and India, where the broker does not offer its services, but it has a credible presence in most other countries. Its operations are divided across Europe and the Asia-Pacific. Its regulatory licences are issued by the CySEC of Cyprus, the FCA of the UK (FRN 509909), the FSA of Seychelles, the ASIC of Australia and the MAS of Singapore. The company makes it abundantly clear that it derives its operating income through spreads and does not indulge in any malpractice involving the misuse of clients' funds.
The regulatory supervision of the CySEC, the FCA and the ASIC ensures that the broker stays on its toes while dealing with financial products. These regulators are renowned for their stringent guidelines and statutory compliance requirements, so you can be assured of your trading capital's safety and enjoy the best trading conditions. All clients' orders are passed to the market, and the broker does not indulge in any market-making activity that may have a conflict of interest with its clients' positions.
Additionally, the CySEC, FCA, ASIC and MAS have mandated segregation of clients' funds from the broker's operating capital, which helps retrieve the funds if the broker files for insolvency or bankruptcy. EU regulations also stipulate insurance for clients' funds against broker insolvency under the MiFID II derivatives, but these insurance policies are applicable only for EU traders. Nevertheless, we are impressed by the regulatory protection Plus500 offers, and we are assured that the funds will be safe in the broker's hand.
Contacting the Broker for Assistance
The broker is quite prompt in its response to requests for assistance in any matter, and representatives are available through live chat at any time of the day or night. Its 24/7 live support team is very efficient at answering customers' queries, and you can even send an email to attach screenshots or describe issues in detail.
You can also contact the broker via the web form, but we recommend the live chat feature for immediate problem resolution. The live chat feature is also available in the Plus500 WebTrader and appears in prominent places across the interface, where you might need to access it while trading or performing account-related actions. Overall, we are happy with the customer service experience provided by the company.
FAQ
Is Plus500 Safe?
As we have outlined in the regulation section of this Plus500 review, yes, the broker is entirely safe and well regulated.
Does the Plus500 Forex Broker Charge Any Hidden Fees?
No, apart from the spreads and the overnight funding fees, there are no hidden charges.
Is There a Minimum Plus500 Withdrawal Limit?
Yes, there is a minimum withdrawal limit according to the payment method. The limits are clearly mentioned in the withdrawal section under the account management menu in the app.
Is the Plus500 Bonus Withdrawable?
The bonus amount can be withdrawn, but traders must accumulate a minimum number of TP and trading volumes within 3 months of receiving the bonus.
Does the Broker Cater to Smaller Traders?
Yes, the broker has set the minimum deposit to $100 to cater to smaller traders. However, inexperienced traders or beginners may not be able to register for an account. Contact the broker directly for information about the registration terms and conditions.