BrokerDealerCompliance.org – The Mystery Regulator

Update: The fund that I mention here has gone bust! 25 MILLION EURO, gone. What can I say? I told you so! Article to be posted soon.
This is an opinion article, written by website owner Daichi Hoang based on information freely available online.
In this piece I present my case that the regulator "Broker Dealer Compliance" is a fraud and advise anyone thinking about joining a broker or forex service who claim to be licensed by "BDC" stay well away. I also discuss whether Google is actually doing the right checks to ensure all advertisers have the appropriate licensing to target certain countries.
Recently whilst browsing through some forex trading sites, I was presented with a Google display advert for a forex investment fund which claimed to be "Regulated". I'm not going to name them as I personally believe it's a scam and don't want anyone to get involved. I will however show you the actual banner ad minus the name of the business.

As I live in Australia, I know that the local regulatory body ASIC would be quite strict on businesses who offer financial advice, products or services. Since I live in Australia and was being targeted, Google must have approved the ad which means they must have done all the checks to verify the eligibility of this business to advertise to Australians.
My understanding is that in order to provide a financial product or service to Australians, a business must hold an AFSL (Australian Financial Services License). Here is the official ASIC government website that explains this in detail: http://asic.gov.au/for-finance-professionals/afs-licensees/do-you-need-an-afs-licence/
I clicked through to check the website. No AFSL, bad start. I then looked at their regulatory status, only to find out that it was regulated and licensed by "BDC" which stood for Broker Dealer Compliance with the website www.brokerdealercompliance.org
My 15+ years experience in network engineering, web development and online marketing naturally made me curious to find out exactly who this regulatory body were because I certainly had not heard of them before. So off I went to their website and did a bit of research. My conclusion is that this apparent regulatory body handing out licenses seem extremely vague and in my opinion are bogus, for the reasons below.
1) BDC claims of being "A Globally Renowned Financial Watchdog Organization" but there's very little information on other websites
Their homepage has the following statement:
"Since 2008, the BDC has been the global watchdog regulator in monitor Commodity, Currency, and other Investment Class Dealers to protect investors against fraud."
It's strange then, that a simple Google search using their domain name in quotes returns very few results, with most of the pages questioning if they are legitimate.
Click here and see for yourself
2) The website has a total of 9 content pages. That's right, NINE
For an organsation who are apparently world renowned, they have a grand total of 9 pages of content on their website. Where are all the reports, alerts, news, etc? So in 9 years of existence, they have come up with 9 pages of content?
Click here and see for yourself
Further, their homepage has a featured article advising of a scam investment scheme dated December 2016. I can assure you that hundreds more scams have been exposed since that time, where are those alerts?
3) The domain was actually registered in 2009
They've been around since 2008 but their domain was registered in mid-2009. Did the Internet not exist in 2008? I don't think so. Maybe I'm being a little harsh, most businesses these days make sure that the domain is purchased before starting. So perhaps I could let this one slip, except the next point is very interesting.
Click here and see for yourself
4) If you try to check back on the history of the website, it's been manually excluded
archive.org is the go to website to find snapshots of what websites used to look like historically. So, a business in operation since 2008 and with an active domain name since 2009 should have history to have a look at right? Wouldn't be interesting to see what kind of website they had in 2009? Were they any different? Will historical snapshots verify their claims? Bad luck if you want to find out because I got this message: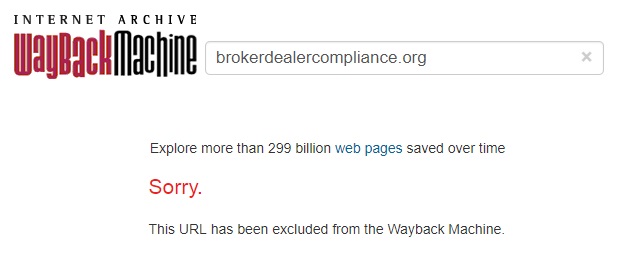 Click here and see for yourself
Now let me tell you that in all my years of being a developer & digital marketer, I have used this site thousands of times. Not ONCE have I seen this message, so I decided to investigate further and find out how a URL could be excluded.

Click here and see for yourself
So it appears that they have manually requested that they be removed from the database. Why?
5) Key features not backed up with actual information
On the "What we do" page, there's talk of "offices worldwide" yet not a single physical address can be found on the website. The team is "comprised of former SEC, FINRA, FSA, NYSE, NFA, and state regulators, as well as former senior managers and technologists from prominent financial institutions and consulting firms" yet not a single name of a member can be found.
I think it's more than reasonable that a legitimate regulatory body introduce these high ranking officials, right? The bigger the names, the more credibility for the organisation?
Click here and see for yourself
6) In my reasonable estimation, the actual website was built at the earliest in October 2014
Their website is based on WordPress. Not that there's anything suspicious about using a cheap template to build your fake regulatory site, but what they forgot to do was protect their uploads folder from public access. So I can see here that the first attempt of an upload was made in 2010. In October 2014 is when they started uploading the images which are used on the website as it is today. The logos are inside the August 2016 folder so it's possible that they were updated recently. No meaningful files exist pre 2014, only "dummy" pictures which were probably used as placeholders.
I can see that this could be a contributing factor as to why they have asked to be removed from the archive.org database as well, as there wouldn't be any meaningful website dating back anything earlier than 2014 which definitely doesn't pair well with the claims of being around since 2008.
Click here and see for yourself
Why this is a major problem and needs to be fixed
I must make it clear again, that this is only my opinion that BDC are a fradulent website, possibly set up by someone to give a separate business some credibility (hint: the forex fund in the Google banner ad). If I am correct, then the critical issue is what digital media businesses are doing to protect Internet users from being exposed to potential scams which are backed by fake regulators to make them appear legitimate. Google, you have a responsibility to ensure that your users are protected from such advertising. You've done it with online pharmacy. You've done it with online gambling. Now it's time to look at online financial services to stop people from falling into these traps.
When searching through Google policies for advertising financial product, I found the following criteria for having an ad disapproved:
"Failure to include links to third-party accreditation or endorsement where affiliation is asserted or implied, particularly when it serves to improve the reputation of the site"
I suppose the ad review team were satisfied that the regulator "BDC" were somehow legitimate? More importantly, where is the requirement to provide an AFSL number?

In my opinion there isn't enough being done to stop scammers from being able to reach millions of users through ad networks. Just when you think Google of all places should be on top of it, we have this. Facebook is not free of guilt either, my news feed regularly has advertising related to forex "winning strategies" and the like. I can certainly tell you that there are plenty of other smaller ad networks that allow similar advertising to freely occur.